Exclusive
John Travolta Sex Accusers' Ex-Attorney Files ANOTHER Lawsuit; Against Former Client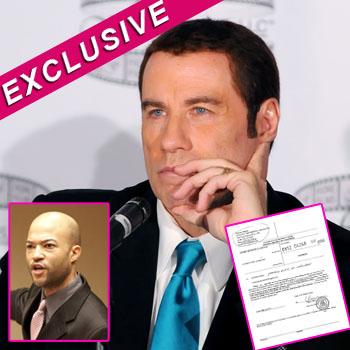 Article continues below advertisement
DOCUMENTS: Read The Lawsuit Okorie Okorocha Filed Against Patrick Duff
As previously reported, on Monday Okorocha filed a lawsuit against Allred, for allegedly poaching the two masseurs that dumped him for the veteran attorney. Allred fired back, telling RadarOnline.com, "Okorocha's lawsuit will be met with a counterclaim for defamation. The facts are the facts. Doe #1 and Doe #2 contacted me seeking representation and we have the evidence to prove it. Mr. Okorocha's lawsuit will be dismissed, and we will ultimately recover a judgment against him."
Okorocha filed the lawsuit against Duff for violating anti-cybersquatting consumer protection and trade libel, after Patrick bought the domain name of OkorieOkorocha.com on May 14, 2012, and posted the following, "The attorney who recently filed bankruptcy, postponed my case numerous times and made me come out from over 3000 miles away,TWICE, for a trial he wasn't prepared for. He rather told me I was a fool if I didn't take the plea deal from the prosecution. He didn't show up for trial and the judge wrote a letter to the bar complaining about him. I was appointed a public defender and was found NOT GUILTY on all but one charge that is being appealed. Then the slander, nice guy, huh?"
Article continues below advertisement
Okorocha subsequently filed documents to have the trade libel claim dismissed.
Duff was arrested in 2010 and charged with misdemeanor resisting arrest, making terrorist threats, vandalism and assaulting a police officer. "I hired Mr. Okorocha to defend me and I flew out to California from Delaware on the eve of trial, but the next day in court, Mr. Okorocha said he wasn't ready," Duff tells RadarOnline.com. "The matter was continued and I came out again for the next date. Okorocha didn't show up and I was there all alone in court. Ultimately, the lawyer that has now filed the lawsuit against me on behalf of Mr. Okorocha showed up later that morning and the judge ordered Okorocha to be in court the next day for the trial. Yet again, he wasn't there. I was appointed a public defender and was found not guilty of the most serious charges and only convicted of disturbing the peace, which is now being appealed. I will be filing a complaint with the California State Bar."
Okorocha's lawsuit against Duff states, "Defendant published on his cybersquatting website...matter intentionally disparaging the quality of Plaintiff's legal services to at a minimum a single third party...as a result of the Defendant's false and disparaging statements of Plaintiff's commercial legal services, he has suffered an actual pecuniary loss in his trade as an attorney."
RELATED STORIES:
John Travolta Sex Scandal: Accuser #2 FIRED For Inappropriate Conduct In Spa