John Travolta Sex Accuser's Former Attorney Suing Gloria Allred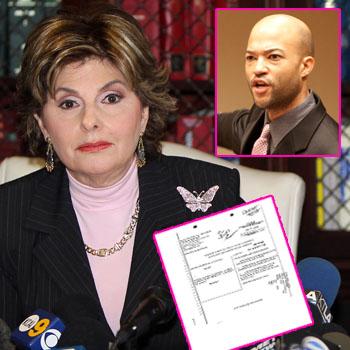 By Jen Heger - RadarOnline.com Assistant Managing Editor
Well, he isn't going away quietly -- the attorney who filed suit for two masseurs accusing John Travolta of sexual assault, has now filed a lawsuit of his own against their new attorney, Gloria Allred, for intentional interference with contractual relations, among several other claims, RadarOnline.com is reporting.
As previously reported, the famed civil rights attorney blasted her clients' former attorney, Okorie Okorocha last week after he made accusations that she stole the two men's cases from him. "I have been practicing law for the past 37 years and I have not and do not solicit clients. Clients come to me. John Doe 1 and John Doe 2 called me without my having any contact with them whatsoever prior to their phone calls. I demand an immediate retraction by Mr. Okorocha of his false statements. I value my reputation and will defend it vigorously both publicly and in court," Allred previously told RadarOnline.com.
Article continues below advertisement
DOCUMENTS: Okorie Okorocha Files Lawsuit Against Gloria Allred
Both men had filed lawsuits against Travolta, which were subsequently dismissed after they fired Okorocha. Travolta's lawyer, Marty Singer, has vehemently denied the allegations.
Okorocha's lawsuit claims: "According to John Doe No. 2, Allred contacted John Doe No. 2 and inquired about Defendants replacing Okorocha as John Doe No. 2's attorneys. Okorocha discussed this issue with John Doe No. 2 and Okorocha had permission from John Doe No. 2 to discuss this issue openly. This was further documented in text messages between John Doe No. 2 and Okorocha which discussed how Okorocha was going to take Allred to task (put her on blast) for these illegal solicitations."
He further claims that after he appeared on CNN and made the allegations, Allred sent him an email saying: "It has been reported to me that you have said I have tried to steal your client John Doe #2. I do not even know who John Doe #2 is and I have had no communication with that person. I strongly advise you not to make false statements about me."
Included in the lawsuit are screen grabs of text messages allegedly from Okorocha's cell phone from John Doe #2. On May 15 at 7:56 a.m., Okorocha allegedly sent a text message to John Doe that said, "I can't believe f**king Allred called you, do you have the number Gloria Allred called from?"
Article continues below advertisement
Doe allegedly responds that the call from Allred came from a private number. Okorocha says of Allred, "She ain't been in a courtroom in 20 years, just doing stupid ass press conference side shows."
Allred does have a very strong case to defend herself because both of the men who filed the lawsuits did so as unidentified, anonymous people.
"Mr. Okorocha's lawsuit will be met with a counterclaim for defamation. The facts are the facts," Gloria Allred told RadarOnline.com in a statement. "Doe #1 and Doe #2 contacted me seeking representation and we have the evidence to prove it. Mr. Okorocha's lawsuit will be dismissed, and we will ultimately recover a judgment against him."