Exclusive
Gloria Allred Brands John Does' Former Attorney's Claims 'False Outrageous & Defamatory'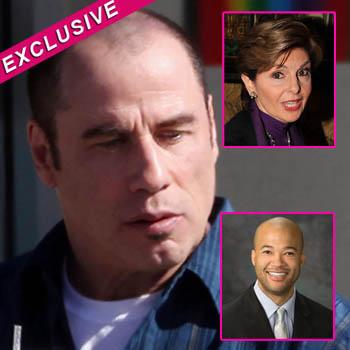 Article continues below advertisement
Travolta's attorney Marty Singer has vehemently denied both men's claims to RadarOnline.com.
Following the report by RadarOnline.com that John Doe #1 and John Doe #2 hired Allred, their former lawyer made public statements that he believes she solicited his clients and the famed civil rights champion has slammed his accusations in an exclusive statement.
"It has been reported in the press that Mr. Okorie Okorocha claims that I solicited John Doe 1 and John Doe 2 as clients. Mr. Okorocha's representations are false, outrageous and defamatory. John Doe 1 and John Doe 2 contacted my offices and neither I nor anyone in my law firm solicited either of these two clients. Both clients first called me and asked me to represent them," the powerhouse attorney said.
Gloria Allred's statement continued: "I have been practicing law for the past 37 years and I have not and do not solicit clients. Clients come to me. John Doe 1 and John Doe 2 called me without my having any contact with them whatsoever prior to their phone calls. I demand an immediate retraction by Mr. Okorocha of his false statements. I value my reputation and will defend it vigorously both publicly and in court."
Article continues below advertisement
As RadarOnline.com was first to report, Gloria was hired by both men to pursue their claims against Travolta.
"We are now representing John Doe #2," she said. "We believe that the lawsuit should be filed in another court and, therefore, the lawsuit that was on file was dismissed without prejudice. We will be conferring with our client regarding what will happen next in this case," Allred tells RadarOnline.com.