Exclusive
Second John Travolta Sex Accuser Fires Lawyer And Hires Gloria Allred After Radar Publishes Damaging Email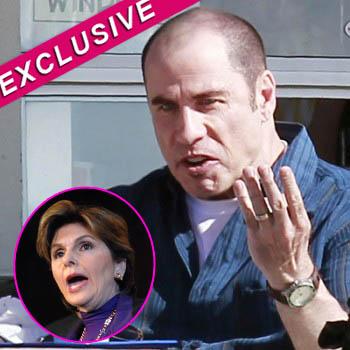 By Jen Heger - RadarOnline.com Assistant Managing Editor
The Atlanta-based masseur who filed a sexual assault lawsuit against John Travolta has fired his lawyer Okorie Okorocha and hired famed civil rights attorney Gloria Allred and says he has no plans to drop his claim against the actor, RadarOnline.com is exclusively reporting.
In a statement released to RadarOnline.com, Allred confirmed she's on the case.
"We are now representing John Doe #2. We believe that the lawsuit should be filed in another court and,therefore,the lawsuit that was on file was dismissed without prejudice.We will be conferring with our client regarding what will happen next in this case," Allred tells us.
Article continues below advertisement
John Travolta Second Sexual Assault Accuser Documented Alleged Attack In Emails To Bosses
The stunning development occurred after RadarOnline.com reported that an anonymous email was sent to bigwigs at the posh Atlanta resort that employs a masseur who alleges Travolta sexually assaulted him, and the correspondence could help the Grease star's case.
In the new email dated February 23, 2012 and reviewed by RadarOnline.com, the anonymous sender, who claims to work at the hotel, wrote to John Doe #2's bosses at the resort:"I am writing this email as a concerned employee. As you can see I will not use my personal email due to the fact that I may be related against. I am concerned about a fellow team member, John Doe."
Second Male Masseur Files $2M Sexual Battery Lawsuit Against John Travolta
In the lawsuit filed by John Doe #2's attorney Okorie Okorocha, he stated the alleged incident took place on January 28, 2012, a month before this email was sent to the masseur's bosses. Okorocha confirms that the email "absolutely refers to what John Travolta did to my client, but I can't explain the mix-up of the dates, the person must have been wrong."
Article continues below advertisement
Travolta's lawyer, Marty Singer has vehemently denied the allegations.
Okorocha told CNN's Alan Duke that his client had fired him, but didn't know the reason why. However, a source close to the situation tells us, "The Atlanta masseur just didn't trust Okorie going forward, and he didn't think his attorney had his best interests in mind... The masseur absolutely pursue legal action against Travolta...," a source close to the situation tells us.
John Travolta Sex Accuser 'John Doe' Says He Has Proof Of Affair
The first masseur, who filed the sexual assault lawsuit against Travolta, was also represented by Okorocha, and the two also parted ways last week. Since then, the first accuser has also hired Allred.
"I represent John Doe #1. Mr. Doe's lawsuit was dismissed without prejudice which means that he is still legally entitled to file another lawsuit against John Travolta if he chooses. We are in the process of conferring with him regarding the next steps, which he may wish to take. Our client and our firm has no further comment at this time," Allred told us.