Exclusive
Former Nanny Sues Sharon Stone Over Labor Violations, Allegations Of Racism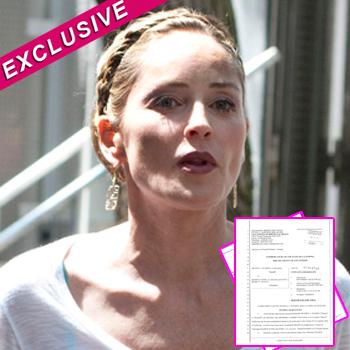 By Jen Heger - RadarOnline.com Assistant Managing Editor
A Filipino nanny has filed a lawsuit against her former employer, Sharon Stone for labor violations and for allegedly making derogatory comments related to her ethnicity, RadarOnline.com is exclusively reporting.
Erlinda Elemen claims she began working for Stone as an assistant nanny to take care of one of the actresses' three children, but got promoted to lead nanny in 2008. The former nanny says she moved into Stone's house in 2008 and began traveling extensively with the actress and the children until she was terminated in 2011.
Article continues below advertisement
DOCUMENTS: Erlinda Elemen Sues Sharon Stone Over Labor Violations
The lawsuit states that Stone made derogatory comments about Elemen's Filipino accent and heritage and told the nanny not to talk to them because she didn't want her children to "talk like you." Elemen also alleges that Stone said Filipino people were "stupid" and wouldn't allow her to have a bible in the house. The former nanny says she would work seven days a week at times but Stone accused of her "stealing" for getting overtime pay and demanded that Elemen pay her back.
Stone allegedly reduced Elemen's hours and pay and the nanny claims she was fired for no reason in 2011. Elemen's lawyer, Solomon Gresen said in a statement, "Because abuses in overtime pay are common for household employees it seems ironic that Ms. Stone initially did the right thing and paid Mrs. Elemen overtime wages and then terminated her for accepting those same wages."
On February 16, 2011, Elemen filed a complaint with the California Department of Fair Employment and Housing, alleging among other things, harassment, failure to prevent harassment and retaliation.