Pretty, Pretty Good For 54! Sharon Stone's Sizzling Hot Bikini Body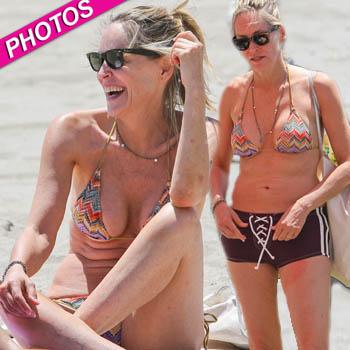 Twenty years after Basic Instinct and she's still got it…
She might be comfortably in her mid 50s but Sharon Stone still has the head-turning physique that seared into the public consciousness when she shocked audiences with THAT leg cross.
She's barely changed at all since her epoch making turn as the dangerously seductive Catherine Tramell, even when it comes to her stunning figure.
The blonde showed off her tanned torso in a daring string bikini as she sun-baked on Venice Beach with a friend Wednesday.
Article continues below advertisement
And while she may not have been as gym-toned as she once was, her slender curves were set off perfectly by the skimpy swimwear.
The Lovelace star looked relaxed as she enjoyed the California beach with a friend, and later chatted with a tarot card reader.
If the soothsayer betrayed anything of note in her future, Sharon's inscrutable facial expression didn't give it away.
Though she listened intently as the man, wearing a pink T-shirt, read through her cards.
MORE ON:
Sexiest Bodies Hollywood