Baths Salts, K2 And Spice, Dangers Of The Designer Drugs Sweeping America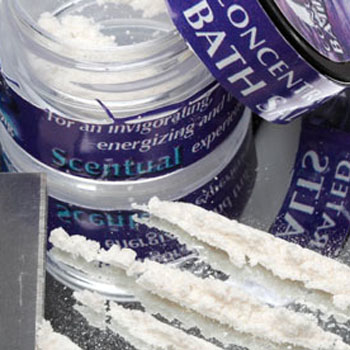 By Debbie Emery - RadarOnline.com Reporter
The synthetic concoction "bath salts" has rocketed to the top of the America's Most Wanted list since Miami man Rudy Eugene was reportedly on the drug when he ate a homeless man's face, but RadarOnline.com can reveal that it is far from the only dangerous designer drug on the market.
Addiction specialists have seen an overwhelming spike in the use of the killer narcotics "K2" and "Spice," which mimic the affects of marijuana but are far more dangerous, reported Forbes.com.
Article continues below advertisement
Like bath salts, Spice is made from synthesized chemicals but its deadly origins date back to 2004, but as it is widely available in head shops and convenience stores, many didn't realize it's illicit nature until the last couple of years and thought it was a relatively harmless high.
Known by a variety of names including Zohai, Genie, Bliss, Nice, Black Mamba, Incense, and even simply fake weed, Spice is a mixture of plant leaves and stems that have been laced with synthetic chemicals and is sold in colorful three-ounce plastic pouches decorated with psychedelic designs to attract adventurous teens.
As fun and innocent as it might look, Spice contains a combination of JWH-018, JWH-073 and HU-210, which has been found to be between 100 to 800 times more potent than THC, the main active chemical in marijuana.
Given the frightening affects of Spice, it is hard to imagine why people would want to take it recreationally. Many users experience acute anxiety or paranoia, panic attacks, a feeling of alienation/disassociation from the world, hallucinations, coughing, feelings of nausea or vomiting, irregular heart beat/palpitations, loss of concentration, psychotic episodes, and tremors or seizures.
Article continues below advertisement
The terrifying chemical concoction has been blamed for numerous violent incidents and tragic deaths, including an Indiana 17-year-old who was shot by his grandmother when he became violent due to Spice, and a teenager in Sioux City, Iowa who killed himself in a Spice-induced panic attack. Last October, Anderson University basketball player Lamar Jack collapsed and died during a pre-season warmup after ingesting the drug.
While many don't consider marijuana to be chemically addictive, the opposite is thought to be true about K2 and Spice.
"When I talked to my patients about Spice, every one of them would say the effects were extremely unpleasant and they wanted to stop," Brendan Bickley, Executive Director of Treatment Solutions Network in Costa Mesa, California told Forbes. "But then they'd take it again. That was when I realized the addictiveness of the drug."
Article continues below advertisement
On March 1, 2011, the Drug Enforcement Agency published a final order in the Federal Register temporarily placing five synthetic cannabinoids into Schedule I of the CSA. As a result of this order, the full effect of the CSA and its implementing regulations including criminal, civil and administrative penalties, sanctions, and regulatory controls of Schedule I substances will be imposed on the manufacture, distribution, possession, importation and exportation of these synthetic cannabinoids.