Naked Streaking Mom On Bath Salts Bender Beats Son Before Being Fatally Tasered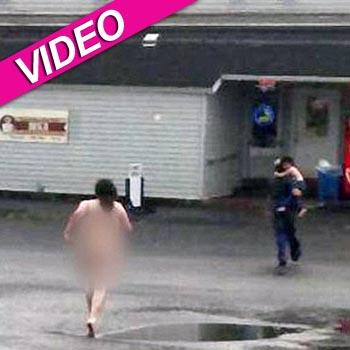 By Debbie Emery - RadarOnline.com Reporter
The bath salts epidemic may have taken another victim after a New York mom witnessed violently beating her three-year-old son was fatally Tasered by police as she ran naked through the streets on Tuesday evening.
Pamela McCarthy, 35, of Mumsville, New York, was spotted violently hitting and choking the toddler in a suspected synthetic drug-fueled rampage before then going after two teenagers playing basketball nearby, reported WSYR.com.
Article continues below advertisement
Boyfriend and baby daddy Jason Williams rushed over to rescue their son and then chased his deranged partner, who soon gave up.
"Then she went back around, she was still chasing people, just running back and forth around the street and she got a hold of one of her dogs and she was rolling around on the ground with her legs wrapped around it; she was strangling the dog," revealed an alarmed neighbor.
When police attempted to subdue the crazed mother, but she resisted all forms of arrest including handcuffing and pepper spray until they finally took her down with a Taser. Sadly the hit became too much for McCarthy and she later died from cardiac arrest in a hospital, while her child was taken to Upstate University Hospital in Syracuse and was treated for minor injuries before being released to family members.
Article continues below advertisement
Just like the infamous face-eater Rudy Eugene in Miami, Florida, the latest suspected victim of the drug allegedly growled at the police officer and tried to bite him when they approached her.
"She really was not coherent to what was occurring around her," New York State Police Capt. Rodney Campbell told reporters Wednesday, according to New York Daily News. "She was not speaking clearly."
Startled neighbors watched in horror as McCarthy lost all control. "We heard growling … and a kid crying so we went outside and opened up the door," Heather Ames told YNN-TV. "There (McCarthy) was, lying on the ground holding her 3-year-old kid in her arms and just beating him.
"She grabbed me. She was swinging her arms. I thought she was going to hit me. She scratched me in the face, then she grabbed my hair."
As RadarOnline.com previously reported, the rise in similar incidents related to bath salts has caused such alarm that the Drug Enforcement Agency has introduced a temporary year-long ban of the three main chemicals in an effort to curb its production.
RELATED STORIES: