Miami Cannibal Victim Recovering, 'Eating, Walking And Watching Basketball,' Say Doctors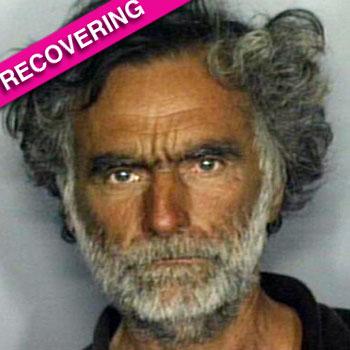 Article continues below advertisement
"He's coping remarkably well. We have mental health professionals to help him," trauma surgeon Nicholas Namias told reporters, reported the New York Daily News.
As RadarOnline.com previously reported, Eugene was found lying naked on Poppo on May 26, eating his face in a gruesome Silence of the Lambs style rampage. Eyewitness Larry Vega flagged down a passing policeman who shot and killed the crazed attacker when he didn't respond to demands that he get off his victim.
New photos (which RadarOnline.com chose not to publish due to their graphic nature) of the 65-year-old released by his doctors show him walking through a hospital corridor with the aid of a medical assistant. The extensive damage to the upper half of Poppo's face can clearly be seen, his nose and right eye are gone, his left eye is covered in a bandage and his forehead and cheeks are a mass of bloody wounds.
Article continues below advertisement
Already eating, walking and even cheering on his favorite basketball team, doctors are impressed with the upbeat attitude of their "charming" patient, who has so far endured three surgeries - including skin grafts – and will need many more.
When asked if he had a message before a news conference on Tuesday, Poppo replied: "Go Heat!" - referring to the upcoming NBA Finals match up between Miami and the Oklahoma City Thunder.
It may cost as much as $200,000 to completely rebuild his haggard face, plastic surgeon Dr. Michael Salzhauer of Bal Harbour Plastic Surgery told RadarOnline.com in an exclusive interview.
The hospital has started a fund to collect donations for his treatment and has so far raised $15,000, but they will not know if he is a candidate for a full face transplant until his wounds heal.
Investigators suspect that Eugene, 31, was on a potent synthetic drug called "bath salts" that has reportedly caused violent behavior, but nothing as obscene as cannibalism before.