Who Was The Miami Cannibal? From High School Football Player To Drug Crazed Face-Eater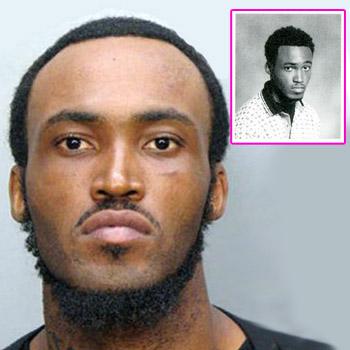 By Debbie Emery - RadarOnline.com Reporter
Rudy Eugene grew up dreaming of one day becoming a professional football player, but instead of his high school achievements or good nature he will always be remembered as the maniac who was shot dead while ripping the flesh off his victim's face as he straddled him naked on a Florida causeway.
"He always promised me he was going to make it, he was going to be a good boy and he was going to have a good life," recalled the 31-year-old's step-father Melimon Charles, as he remembered the boy who he raised during most of his childhood.
Article continues below advertisement
As RadarOnline.com previously reported, Eugene was found lying naked on homeless man Ronald Poppo, eating his face in a gruesome Silence of the Lambs style rampage. Eyewitness Larry Vega flagged down a passing policeman who shot and killed the crazed attacker when he didn't respond to demands that he get off his victim.
"All his life, he wanted to be a football player," said Charles, reported the Miami New Times.
As a student at North Miami Beach High School, Rudy played for the Chargers football team under coach Jeff Bertani in 1998 and 1999. "He was just a normal type of kid that we've had over the years," Bertani told CBS local news.
"He was quiet and well mannered. We never really had any problems with him. I'm surprised about what happened, like everyone else. I never noticed anything that would have indicated there would have been a problem. I don't think anyone could have predicted."
Article continues below advertisement
After graduating from high school in 2000, Eugene did an assortment of odd jobs, from selling CDs to working at McDonald's and telemarketing, most recently he worked washing cars at an automobile dealership, but never did go to college to get a degree like his step dad hoped. "He was a fine man," declared Charles. "He was working very hard to make his life better."
Authorities said they suspect that Rudy was under the influence of a potent synthetic drug called "bath salts" that's known to trigger violent behavior, and an eyewitness exclusively told RadarOnline.com that they saw Rudy walking the streets of Miami a week before the attack, naked. "He was just walking the streets as if it were normal to be totally naked," the source said.
"That wasn't him, that was his body but it wasn't his spirit. Somebody did this to him," said Eugene's girlfriend, who has remained anonymous, revealing that the man she lived with for five years was deeply religious.
"He loved God he always read the Bible he would give you knowledge on the Bible. Everywhere he went his Bible went. When he left he had his Bible in his hand." She said Eugene left her home at about 5:30 Saturday morning and the last thing he said to her was "I love you and I'll be back."
Article continues below advertisement
A former roommate of Eugene's told the Miami Herald that her friend was far from the zombie that has been described by eyewitnesses of the attack. "He wasn't homeless. He had a place to stay. He had a car, and he worked," said Erica Smith. "He had his ups and downs, but he was not an aggressive person. He was really sweet and giving."
The job-hopper was arrested seven times over five years and had a criminal record of relatively minor offenses, mainly pertaining to marijuana possession, and one charge of selling drugs near a school.
"He was always looking for ways to make money. Not necessarily illegal, but sometimes he got in trouble with it," his lifelong friend, Daniel Ruiz told the Herald. "But for Rudy to do something that graphic, that aggressive, that violent, that gruesome — that's what's really troubling us. Rudy? Really? Rudy? Naw.
"He had his little problems, but nothing too dramatic. He was sane," Ruiz said.
Although it has not been proven that he was on bath salts, the symptoms such as stripping off because the body temperature sky-rockets, violent behavior and unnatural strength are all side effects of these new manufactured drugs, Drug Enforcement Agency spokesperson Barbara Carreno told RadarOnline.com in an exclusive interview.
Article continues below advertisement
"Someone must have given him something really bad," believes his close friend Smith. "A few days ago he told my brother that he was really depressed and didn't want to live anymore. He was a guy who just wanted a family and someone to love him."
According to public records, Eugene was married from 2005 through 2007; his divorce from Jenny Ductant was finalized on January 7, 2008 when at the time he was listed as having no income and assets of just $2 and $50 for a cell phone. The divorce case file mentions nothing about children.
Despite the glowing reports of Rudy's good nature, one major blot on his record was a battery charge when he was 16 that was later dropped, and a domestic dispute against his mother in 2004 when police had to use tasers to subdue him. During the attack, Eugene yelled at his mom, "You see what I can do?" and "How do you feel now?" before allegedly shoving her out of the kitchen and threatening to kill her.
Article continues below advertisement