'Bath Salts Bride' Died After Taking Zombie Drug In Desperate Bid To Lose Weight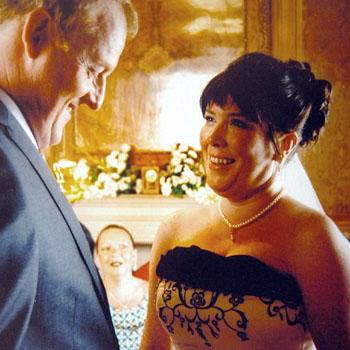 Article continues below advertisement
The newlywed picked up the seemingly innocent white powder that was nicknamed Ivory Wave and described as 'soothing bath salts,' on the Internet for around $30 per 500 mg bag in October 2009.
Along with giving her the body of her dreams after she dropped 10 dress sizes, Sarah was transformed from a sweet, bubbly 35-year-old to a "paranoid, aggressive agoraphobic, insomniac," according to her family.
"It got hold of her so quickly. She was in its grip," revealed her mother, Margaret Moyle of Braintree, Essex. "I honestly don't think Sarah had a clue what she was getting herself into when she bought it. To my knowledge, she had never been a drug user."
Ten months after she first began taking the deadly synthetic drug, Forsyth slipped into a coma and her parents were forced to take her off life support in August 2010 due to severe swelling and irreparable damage to her brain.
Article continues below advertisement
"When Sarah first fell into a coma even her doctors had never heard of the stuff," explained her mom, but now thanks to the high profile nature of cases such as Eugene's cannibalistic attack the Drug Enforcement Agency has temporarily banned the three main chemicals - methylenedioxypyrovalerone (MPDV), mephedrone and pyrovalerone – that make up the drug.
Forsythe, who had suffered from diabetes and depression that made her pile on the pounds, was so oblivious to the risks of bath salts that she didn't even try to hide it from Margaret and father, Robin.
"I don't know if it suppressed her appetite or increased her metabolism - perhaps a bit of both. But the weight just fell off her," said Mrs. Moyle. "I was shocked at the sight of her when she was at her thinnest," and she was even more disturbed when she found out Sarah was snorting the "slimming aid" like cocaine, claiming it was the quickest way to get into her system.
"I was horrified. We begged her to stop - her brother even said she was going to kill herself if she wasn't careful - but we couldn't watch her all the time. She was a grown woman and whenever we weren't there she bought the stuff with her credit card and took it. She didn't seem too sure, but she said it was all totally legal and above board," revealed her mourning mom.
Article continues below advertisement