Exclusive
Cops Obtain Warrant For Surveillance Video Of Drake & Chris Brown Brawl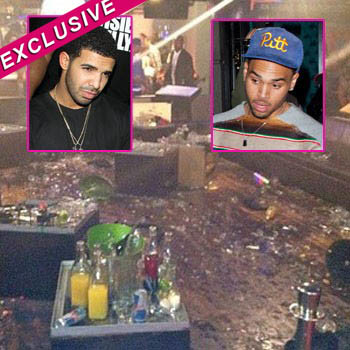 By Jen Heger - RadarOnline.com Assistant Managing Editor
The New York Police Department has a warrant to obtain surveillance video from the nightclub where the Drake and Chris Brown brawl broke out Thursday, RadarOnline.com is exclusively reporting.
The fight, at WIP nightclub in NYC, left the Grammy award winning singer, his girlfriend Karreuche Tran, friends, bodyguards and innocent bystanders bloodied and hurt. As evidenced by the exclusive photos obtained by RadarOnline.com, the club was virtually destroyed in the wake of the brawl. "There was blood all over," an eyewitness said. "Both of their entourages got involved and it all got really out of control really fast. The club was unrecognizable afterwards!"
Article continues below advertisement
"The cops got the warrant from a judge late yesterday afternoon. The search warrant allows them to collect ALL evidence from the assault between Drake and Chris Brown and his entourage, including footage from the security cameras at the nightclub," a law enforcement source tells RadarOnline.com exclusively. "The club is outfitted with a state of the art surveillance system. The fight was caught on MULTIPLE cameras from different angles."
Meanwhile, as RadarOnline.com previously reported Brown's powerhouse attorney, Mark Geragos has spoken with detectives from the NYPD about the brawl. "Luckily for Chris, his attorney happened to already be in New York City and he has been talking with detectives from the NYPD and with management at the nightclub. Chris, Karreuche and other members of his entourage will fully cooperate with law enforcement," a source previously told RadarOnline.com.
Article continues below advertisement
One of Drake's associates, P Reign, tweeted after the fight: "Chris Brown got a taste of his own medicine...We aint no rihannas ni** Lol. That's my one comment about this s**t I'm done." Cops haven't determined if P Reign was at the nightclub, but it's has since been deleted from his timeline.
After the fight Chris tweeted a photo of himself with a bloody gash on his chin saying, "How u party wit rich n**** that hate? Lol... Throwing bottles like girls? #shameonya!," however, that Tweet has also been deleted.