Witness: Drake's 'Terrifying' Entourage Started The Brawl With Chris Brown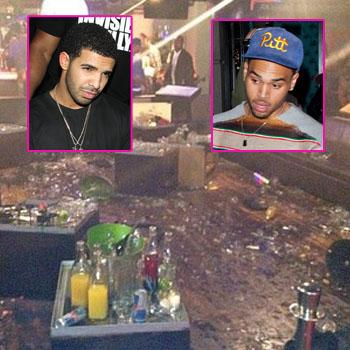 Ingrid Gutierrez, a 21-year-old model who was injured in Thursday morning's brawl at New York's WIP nightclub, claims Drake and his "terrifying" entourage are to blame for the bloody skirmish, all started when the Canadian singer made an antagonistic gesture toward his professional/love rival Chris Brown.
Prior to the fight, Gutierrez, a Brooklyn native and Fordham College student who was in Brown's party, told the New York Post that "everybody was having a good time dancing" and drinking.
Article continues below advertisement
Gutierrez said the bad blood began to flow when Brown sent Drake's table a bottle of Armand de Brignac Champagne.
"I saw him tell the waitress to send a bottle to Drake's table," Gutierrez said. "I then saw a waitress come back with a piece of paper and gave it to Chris."
The bottle was returned to Brown with a note that read, "I am f--king the love of your life" -- likely referring to his relationship with Brown's ex Rihanna -- and Gutierrez said Brown "looked upset and just threw it on the floor."
Gutierrez said things heated up between the singers and their entourages when Drake's group was "giving Brown the middle finger," leading to the two parties getting "into each other's faces" and "shouting at each other."
At that point, Gutierrez said "Chris told Drake to f*ck off.
"The next thing I could hear is the sound of smashed glass and mayhem started. Somebody in Drake's group -- I don't think it was Drake -- swung at Chris, but missed. Chris didn't swing back, he just tried to brush them off. "
Article continues below advertisement
The model said that Brown, notorious for his 2009 beating of the Barbadian stunner, tried to turn the other cheek -- only to be hit by flying glass.
Chris "told us, 'Let's go,' but there were bottles flying at us. I saw one bottle was thrown, it looked like a vodka bottle, and hit Chris on the face," Gutierrez said. "The anger from Drake's entourage was terrifying."
Gutierrez said when the mayhem hit a fever pitch, she "was on the couch, covering my face, because I'd been hit on the head by a bottle and my head was bleeding -- I thought I was going to die."
The beauty said she plans on filing suits against both the venue as well as whoever threw the bottle that hit her.
Drake, who collaborated with Rihanna on the hit single What's My Name, dated the Umbrella singer in the spring of 2009, shortly after she and Brown split after the infamous beating.
RELATED STORIES:
Drake & Chris Brown Fight: See The Explosive Aftermath Photos
Chris Brown Tweets Pic Of Himself With Gash In Chin After Scuffle With Drake's Crew