Miami Cannibal 911 Calls Released - Listen To Them Here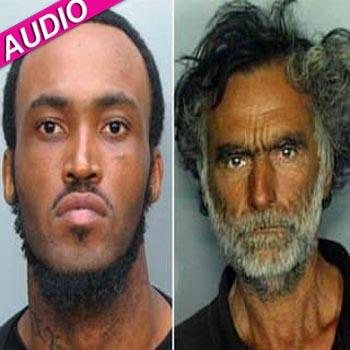 "He's gonna kill that man, I promise you," was the harrowing message one caller gave to a 911 dispatcher in the bizarre care of the Miami cannibal.
Late Friday, Miami police released a series of calls that came in from eyewitnesses to Rudy Eugene's bizarre and brutal attack of Ronald Poppo.
Eugene, who was nude at the time, leapt on the sleeping homeless Poppo, tearing off his clothes and eating away most of his face before being shot to death by cops.
Article continues below advertisement
Miami Cannibal Was Under Voodoo Curse Says Girlfriend
"He is beating another man to a pulp," another caller said said of the gruesome attack.
"Listen, there is a naked man on the MacArthur Causeway," a third caller said. "He is beating another man to a pulp - like on top of the man, beating him, the man is bleeding."
As RadarOnline.com has ben reporting, it's believed Eugene had been taking a drug known as bath salts that is known to cause violent reactions.
The horrific scene has already become a stop on a Miami bus tour of famous crime scenes.
Poppo remains in the hospital in critical condition.