ON YOUR RADAR 2012: The Cutest, Most Moving And Terrifying Animal Stories Of The Year!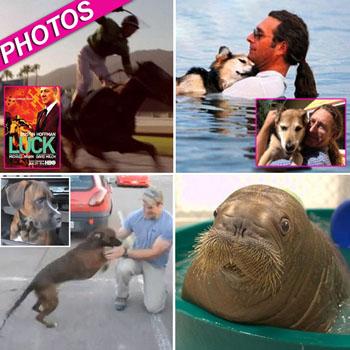 By Debbie Emery - RadarOnline.com Reporter
Just like the world of celebrities, animals come in all shapes, sizes and attitudes, and they never fail they never fail to amaze or shock us with their antics.
From cute puppies pulling at our heartstrings to vicious grizzly bears scaring life out of us, RadarOnline.com has herded up the best animal stories of the year!
Capitan the German Shepherd from Argentina wins the prize of top dog for loyalty for camping out at his dead owner's grave six years running. When Miguel Guzman died in 2006, the canine soulmate ran away from home and his owner's mourning widow eventually found him wailing and howling in sorrow in the graveyard.
Article continues below advertisement
Cemetery director Hector Baccega said the uber-loyal hound "turned up here one day, all on his own, and started wandering all around the cemetery until he eventually found the tomb of his master." He is now feeding Capitan and regularly follows his dog's eerie daily rituals, which ends with him sleeping on Miguel's grave each night.
The furry tales from the New Zealand set of The Hobbit are far from fluffy as it was revealed that 27 animals died during the filming of Peter Jackson's latest fantasy blockbuster.
Among the alleged casualties were a miniature pony named Rainbow who had been cast as a hobbit horse but was euthanized after suffering an avoidable accident, another horse called Claire who ran off the steep slope she was kept on was found with a broken neck submerged in a river, and numerous sheep, goats and chickens were killed.
Another case of animal neglect sparked outrage from PETA when three horses died on the set of the HBO drama, Luck, while the show was filming at Santa Anita racecourse in California. Citing the use of elderly or injured thoroughbreds who had no place being back on the track, the animals rights group blasted the network for "murdering horses" and the Dustin Hoffman series was swiftly canceled.
Article continues below advertisement
On a lighter – and far cuter – note, a baby walrus was signed, sealed and delivered to the New York Aquarium in October when he was temporary home in Alaska. Weighing in at 234-pounds with ling whiskers and wrinkles like an old man, Mitik was immediately a big hit in the Big Apple, despite arriving just before Hurricane Sandy hit land. "He seemed interested and amused by all the activity around him" during the super storm, the aquarium reported.
Chuck the Boxer became an Internet sensation with the very, very warm welcome he gave his owner, Nick, when he returned from serving abroad. The floppy-eared bundle of love couldn't control his joy as he spotted the soldier and leapt out of the family's SUV howling in happiness as wife Katie squealed, "Daddy's home!"
"Chuck and Nick are two peas in a pod and Chuck is Nick's true other half," Katie told RadarOnline.com in an exclusive interview. "He pines for him when he's away and reminds me of a child going through adjustment periods when Nick is gone for a decent amount of time."