Signed, Sealed, Delivered! Orphaned Baby Walrus Sent By FedEx To NYC Aquarium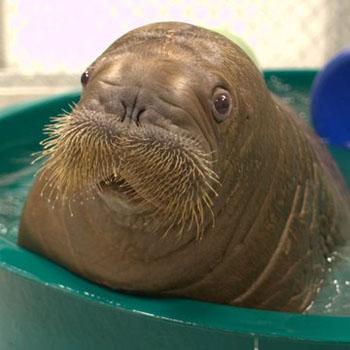 By Debbie Emery - RadarOnline.com Reporter
He is the walrus!
With his long whiskers and deep wrinkles, this 234-pound bundle of joy looks like an old man but at only 15 weeks old he is already an orphan.
After being rescued from the open ocean off the coast of Alaska, the chubby calf finally has something to smile about since being adopted by the New York Aquarium on Coney Island and will make his unlikely arrival on Thursday via FedEx, reported the NYTimes.com.
Article continues below advertisement
"If he's calm and comfortable, no worries," said director Jon Forrest Dohlin, explaining how the walrus will be kept in a jumbo-size crate aboard a FedEx cargo jet, accompanied by a vet and a handler. "But his needs and comfort come first. So he may very well travel with his head in our keeper's lap."
Mitik's arrival in the Big Apple comes at a crucial time for the aquarium which is home to two elderly – and far more wrinkled – female walruses, Nuka, 30, and Kulu, 17.
"Our concern is that our very elderly walrus could pass away, as these things go and that would leave us in a pickle because we really wouldn't want to have a solitary animal," explained Dohlin.
Up until now, the big baby, who was found stranded at sea last summer by hunters, has been nursed back to health through bottle feeding and exercise sessions with fellow orphan, Pakak, at the Alaska SeaLife Center.
Article continues below advertisement
Mit was so weak from illness and suffering from bladder problems when he was first rescued that he couldn't even take the bottle and his caretakers feared he wouldn't make it, but since his miraculous recovery they believe his innocent charm will win over the women walruses in NYC.
"If Mit is resting with his head on my lap, sucking my fingers, looking sweetly into my eyes, and Pak comes anywhere near us, he pops up, yells at Pak and tries to head-butt him," revealed Martha Hiatt, the aquarium's behavioral husbandry supervisor. "Then he'll turn to me and be all cuddly again. We say he is small, but scrappy — the perfect New Yorker."
Staff hope that when he matures into manhood that sparks will fly with his new pool-mates, who at 1,278 and 1,850 pounds respectively, currently overwhelm him.
"Kulu is a proven breeder," explained Dohlin. "But it's not clear that she would still be of reproductive age. What's driving this is Mit's rescue. He's an orphaned calf, and we have the room and expertise. It's a great opportunity for him and meets a number of our goals."