Exclusive
Woman Angers Police And PETA For Riding A Manatee, 'Go Ride A Jet Ski, Don't Use Animals'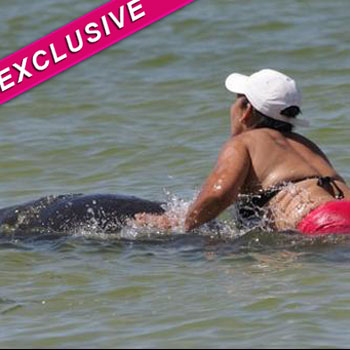 Article continues below advertisement
Along with currently facing criminal charges for endangering a protected creature and being launched into a public campaign by infuriated local police to identify her, the perpetrator is being slammed by PETA (People For The Ethical Treatment Of Animals) for her negligence and stupidity.
"It's bad enough that these slow-moving, gentle creatures are ripped apart by boat propellers. Animals, in general, will be better off when people learn that they exist for their own reasons and that you can love them without having to climb all over them," PETA's Vice President of Communications Lisa Lange told RadarOnline.com in an exclusive statement.
Pinellas County Sheriff Bob Gualtieri is not treating the violation lightly either, and personally held a news conference to decry the abuse of an animal he called "a huge part of our culture here in Florida" and "a very integral part of what Florida is about," reported the Tampa Bay Times.
"Go ride a Jet Ski. Don't use animals," ordered the angry sheriff. "She needs to be held accountable for her actions."
Article continues below advertisement
According to the Florida Manatee Sanctuary Act, "It is unlawful for any person at any time, by any means, or in any manner, intentionally or negligently to annoy, molest, harass, or disturb or attempt to molest, harass, or disturb any Manatee."
The authorities received numerous calls from concerned animal lovers who had spotted the woman dressed in red shorts and a bikini top riding the manatee wild west style in the water north of Gulf Pier. They do not believe the animal was physically injured but say the psychological impact of having her bouncing on its back is harder to assess.
"It's a wild animal. It's not something to be ridden," said Susan Butler, a Manatee expert with the U.S. Geological Survey in Gainesville. "I can't say that as a biologist I would ever, ever condone that, or say that (the Manatee) wanted them to do that."
Under the Florida Manatee Sanctuary Act, sea cow molestation constitutes a second-degree misdemeanor, an offense punishable by a $500 fine or a term of up to 60 days in the county jail.
Article continues below advertisement