Exclusive
SeaWorld Killer Whale's Gory Injury Sparks Angry Protest From PETA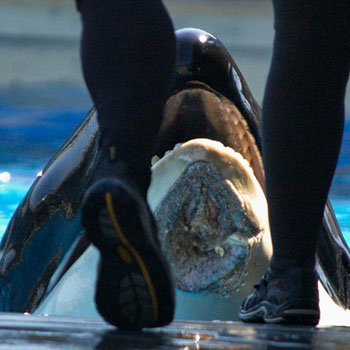 Article continues below advertisement
"The rumor suggests that he may have been trying to get over the chains that SeaWorld has erected and has ripped the tissue down to the bone," he wrote.
However, according to an animal rights' whistleblower, "Nakai was involved in an altercation with two other orcas when the injury occurred - even though the U.S. Department of Agriculture prohibits housing incompatible orcas together," PETA (People For The Ethical Treatment Of Animals) told RadarOnline.com.
"In response, PETA will be holding a protest at SeaWorld San Diego this Wednesday, October 3," the group revealed.
"The lives of Orcas at SeaWorld are marked by deprivation, stress, injury and death. Their cruel confinement turns them into ticking time bombs who attack and have even killed each other," argued PETA Executive Vice President Tracy Reiman in an official statement to RadarOnline.com on Monday.
Article continues below advertisement
SeaWorld officials have been vague about how Nakai got the nasty injury, which was snapped by a park visitor during a day out there last Thursday, and have only revealed that it occurred during a nighttime performance on September 20.
"Nakai is currently receiving antibiotics and the veterinarians are pleased with the healing progress of his wound,'' read a statement from the theme park.
Despite the injury, the whale is "swimming comfortably and interacting with other killer whales in Shamu Stadium pool complex at the marine park," claim officials.
The mysterious Orca accident is the latest in a slew of scandals to rock the popular park over recent years.
As RadarOnline.com previously reported, disturbing video footage of a 2006 killer whale attack during which a trainer was dragged down and held underwater was made public in July by Death At SeaWorld author David Kirby, who believes it could have helped prevent subsequent accidents.
In 2010, trainer Dawn Brancheau was killed by a 12,000-pound killer whale named Tilikim, who had been involved in two other human deaths, after he dragged her under the water.