Exclusive
Inside Dying Dog's Miraculous Recovery After Viral Photo Sparked $25,000 Of Donations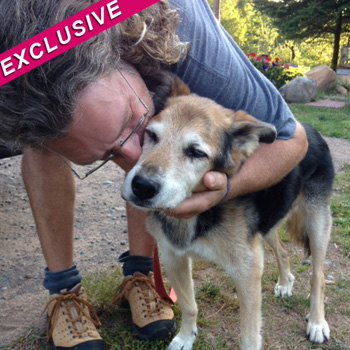 By Debbie Emery - RadarOnline.com Reporter
John Unger was preparing to make the gut-wrenching decision to say goodbye to his most loyal companion of nearly 20 years, when a single photograph of man and dog literally turned both their lives around.
"I am blown away by the response from everyone. Schoep has been my world for nearly two decades and I have based many life decisions on what would be best for him," Unger told RadarOnline.com in an exclusive interview.
Article continues below advertisement
As RadarOnline.com previously reported, at 19 years old, the shepherd mix was suffering from debilitating arthritis that Unger couldn't afford to treat and realizing that time was not on their side a friend captured the moving image of the duo as the Wisconsin native tried to ease his dog's pain by floating with him in Lake Superior.
The outpouring of support from the photo after it went viral in August has caused more than $25,000 to flood in from around the world to fund expensive laser treatments that have Schoep feeling like a healthy young pup again.
"We've seen a dramatic difference in his health," the vet behind the dog's groundbreaking treatment, Dr. Erik Haukaas, DVM of Bay Animal Area Hospital, Ashland, Wisconsin, exclusively told RadarOnline.com. "Schoep is very happy, he is comfortable, he is much more active and he likes to go on his walks at night.
"He is very interested in eating again, his ears are up and he is wagging his tail," he revealed.
Article continues below advertisement
The lively brown and white hound is a dramatic contrast to the pooch who first walked painfully into Dr. Haukaas' examination room a few short months ago.
"He has degenerative arthritis due to his age," explained the vet. "We discussed that euthanasia was an option at that point. John had a friend with him that day who paid for the X-rays and the blood work and a couple of weeks of pain medication, and then we were going to reevaluate in a couple of weeks and see if putting him down might be the next best thing."
Before that heartbreaking decision had to be made, the photo hit the headlines and suddenly John's bank account exploded with donations from well-wishers and Schoep had a new lease on life.
"He is getting therapy laser treatment once a week, he is getting glucosamine supplements once a day, and the pain medication twice a day. It is making him comfortable. When we have dogs this age, we are not necessarily trying to keep them alive longer but trying to give them a good quality of life for the time they have left. Apart from arthritis, he is in very good shape for a dog of his age."
Article continues below advertisement
The life expectancy for a dog like Schoep is 14 to 16 years, so the plucky pooch has already outlived that by three years, and John is well aware that he can't live forever.
"I will be heartbroken to say goodbye but know that when the time is right he will have had a great life and won't fight it," his emotional owner told RadarOnline.com.
"It's going to be hard, no doubt about it. But, I have been preparing for a long time. Schoep is 19, so to be honest, I thought it would happen a long time before now.… I'm glad it didn't!
"Aging and passing-on is a part of life. It is inevitable that this day will come. When it does, I will have blue days for sure, but knowing I can pick up a card, letter or read comments shared with me from so many people around the world is going to help me through it. The support and kindness people are offering is amazingly powerful," he said gratefully.
"In the meantime, I am cherishing every moment I have with Schoep."
Article continues below advertisement
Unger credits Schoep for not only being man's best friend, but also saving his life when he was so depressed after breaking up from his fiance that he considered committing suicide by jumping off the rocks of the Milwaukee marina.
"When I was really at that moment to jump, he looked up at me with a look I've not seen since or before," John told RadarOnline.com. "It snapped me back to reality and made me think, 'I shouldn't be doing this… Who is going to care for this dog if I do this?'
"I had just rescued him a year before and I was not going to abandon him again by killing myself. He snapped me out of the frame of mind I was in."
Now the dog is helping John again by possibly offering a new career opportunity for the 49-year-old farm caretaker with the launch of the non-profit Schoep Legacy Foundation, which aims to provide assistance to dogs in need and pet owners who have to care for their animals without insurance.
Article continues below advertisement
"It's amazing that his story has launched the foundation, and maybe even a new career! I just want to be able to give back to others after so many have helped me," said Unger.
"We are currently in the process of registering as a 501 C 3, charity. The money that came into the Bay Area Animal Hospital topped $25,000. This will cover Schoep's medical needs and the excess was used to start Schoep's Legacy. Right now, you can go to donate to the foundation and also to purchase prints and gift items on the John & Schoep Store—a portion of the proceeds goes to Schoep's Legacy Foundation.
"This is a brand new organization, but ideas for partnership include a spay neuter program for low income households in the Bay Area of Wisconsin, rescue and senior dog care organizations and placing dogs with Veterans programs," he explained.
As for the inspiration behind the new charity, "He has been full of life since getting the treatments and even trotted on our walk this week!" gushed Schoep's delighted owner as he fought back tears of happiness.