War Veteran's Service Dog Saved After $40,000 Donated For Life-Saving Surgery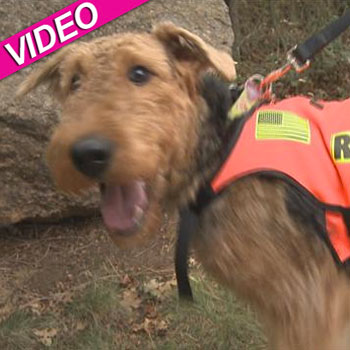 By Debbie Emery - RadarOnline.com Reporter
A service dog that helped his owner get over debilitating depression after 20 years of military service found himself in desperate need of help when vets diagnosed the dog with severe hip dysplasia and suggested putting him to sleep.
Jake the Airedale Terrier became a curly-haired life-line for owner Karl Hofle, of Colorado Springs, when he returned home broken from three deployments in the Middle East only to face severe anxiety, severe depression, and Post Traumatic Stress Disorder, reported 9news.com.
Article continues below advertisement
"Has it been easy? No. But having Jake in our family actually helped save our marriage," said Karl's wife Sharon Hofle.
After bringing the family back from the brink, the dog, whose full name is Sergeant Andy Perkins after a solider who was killed in an Iraq roadside bombing in 2007, got devastating news of his own when it was revealed that he would need $10,000 in life-saving hip replacement surgery, an amount that was impossible for the struggling military family.
Within hours of telling their heartbreaking story on 9News, the Hofles were shocked to see donations flooding into their bank account from all over the country and by Tuesday evening it had rocketed to $40,000.
"It's unbelievable. I think it's still going up," said astonished Sharon, who revealed that even after getting Jake on the mend they will still have enough for their daughter's college fund and donations to other veterans.
Article continues below advertisement
Jake's surgery is scheduled for next Saturday when his veterinarian will operate on the first hip and then 30 days later he will tackle the second, after which he'll be expected to be active within a couple of days.
The Hofles got even more good news this week when after looking for work since he was medically discharged in January Karl had two potential employers contact him.
Donations for Jake can be made at any Wells Fargo branch into the Business Account for SGT ANDY PERKINS aka JAKE, using the last four digits 6390, or via a PayPal account set up by the family.