New Reality Show Stars Earn Stripes Slammed By Veteran Group For 'Trivializing War'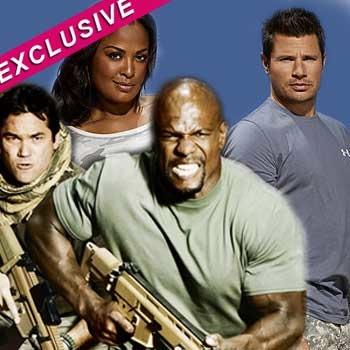 Article continues below advertisement
"The real warriors who go out there and come home from war don't win a reality prize. They live with the consequences of being exposed to the dangerous elements they survived."
In NBC's latest Mark Burnett-produced venture that premieres on Monday, hosts Samantha Harris and retired General Wesley Clark send a motley band of stars -- including Nick Lachey, Dean Cain and Laila Ali -- to a remote training facility where they will be challenged to execute complicated missions inspired by real military exercises. Each contestant is to be paired with a military special operative, including former U.S. Army Delta Force and Green Berets, U.S. Navy SEALS, U.S. Marines and police officers.
Article continues below advertisement
"I think it is trivializing war, where the consequences are not that you are knocked out the competition next week, the consequences are you don't get to go on with your life -- period -- or in your life as it was before as an able–bodied individual," explained Fairweather.
"They show explosions in the show, how cool! But then most soldier's experience with an explosion is debilitating injury or -- as in J.R. Martinez's case -- severe burns, plus the psychological side effects of being wounded such as post traumatic stress disorder," she told RadarOnline.com.
"I am sure the training is tough so the contestants may think they know how difficult it is and the hell soldiers go through, but that is nothing compared to the hell of war."
Swords to Plowshares is a community-based non-profit that helps veterans deal with the physical, psychological and economic traumas they deal with coming back from war and trying to transition back into the civilian world.
Fairweather explained that many of the vets she meets joined up when they were 17 or 18 years old and thought video games and action movies were "pretty damn cool."
Article continues below advertisement
"Then when they get out there and its real, it's not that cool anymore. It's real blood, real dead comrades, and real children and civilians that you see in horrifying circumstances," she revealed.
Navy Fighter Jet Crashes Into Virginia Suburb In Fiery Wreck
The plight of veterans was highlighted last year when ABC cast Iraq war hero J.R. Martinez on Dancing with the Stars, but while he "is an individual who suffered horrific burns then had real achievements," expressed Fairweather. "This is so cartoony. It is the total opposite of what he did."
As for host General Wesley Clark, who had a highly acclaimed 34-year career in the Army and the Department of Defense during which he received many military decorations, knighthoods and a Presidential Medal of Freedom, she is shocked that he agreed to do the show.
"What was he thinking?" asked Fairweather.
Stars Earn Stripes premieres on NBC on Monday, August 13 at 9 pm.
RELATED STORIES: