Custody Battle Over Abandoned Dog Resolved After Owner Backs Down Because Of Plea Deal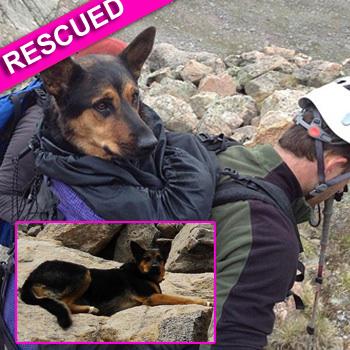 Article continues below advertisement
Scott Washburn and his wife, Amanda, discovered Missy dying and alone on Mount Bierstadt near Denver, Colorado, last month while out hiking the peak, which is categorized as a "14er" meaning it tops 14,000 feet and is not considered safe for dogs.
"We knew we weren't going to be able to get her out by herself. Her paws were completely raw and her elbows were torn up," said the knight in shining armor, who gathered a rescue team and went back up on a nine-hour mercy mission the next morning.
After leaving her freezing to death, the dog's neglectful owner tried to get her back when the story hit the headlines, but instead got slapped with animal abuse charges from the Clear Creek County authorities and death threats from people who were astounded at his callousness.
Ortolani had originally claimed that he had no choice but to head down the mountain without Missy on August 5 because he was worried about his own safety when the weather took a nasty turn and he couldn't carry the 112-pound dog over the rocky terrain.
Article continues below advertisement
Now the 29-year-old's lawyer said a plea bargain will allow him to plead guilty to the less serious violation of a county ordinance as long as he doesn't try and get the shepherd-Rottweiler mix back, reported KMGH.com.
"I just don't think that his actions have shown that he is a responsible dog owner," said Washburn, who is now Missy's permanent caregiver. "We understand that he had to leave her there. My wife and I did the same thing. But we ended up going back for her and we went to some pretty extreme lengths to do so."