Hiker Charged With Animal Cruelty For Abandoning German Shepherd On Colorado Mountain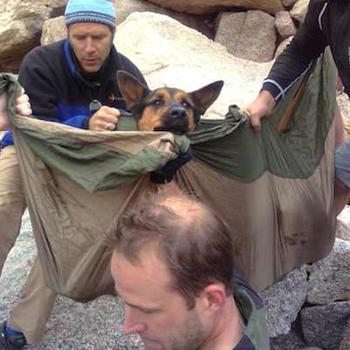 Anthony Joseph Ortolani has been charged with animal cruelty in the case of Missy, the German Shepherd Dog he abandoned on a Colorado mountain.
As RadarOnline.com has been reporting, Ortolani had Missy with him when he hiked to a level of almost 14,000 feet.
With a storm approaching and her feet too blistered to continue, Ortolani left the 110 lb. dog behind and descended the mountain. He did then call the Sheriff's office and asked for help in getting the dog off the mountain but the department doesn't handle animal rescues and turned him down. Assuming the dog had died, Ortolani made no other efforts at rescue.
Article continues below advertisement
Eight days later, hikers Scott and Amanda Washburn found Missy."Her paws were completely raw and her elbows were torn up," Scott said. They quickly posted an appeal for help on a climbing website, organized a rescue team and saved the traumatized pooch who'd had no food or water the entire time.
As Missy recovers from her injuries, a custody battle is now brewing between one of the rescuers and Ortolani, and the fact that he's been charged with animal cruelty doesn't mean he may not get the dog back.