Dog Abandoned On Mountain 'Was In Awful Shape,' Say Rescuers Fighting To Keep Her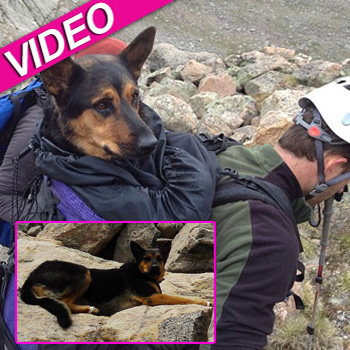 By Debbie Emery - RadarOnline.com Reporter
After inspiring a group of hikers to climb over 13,500 feet to rescue her from a mountainside, Missy the German Shepherd has now captured the attention of the nation as the bitter custody battle heats up between the owner who abandoned her stranded in the snow and the man who carried her to safety.
Scott Washburn and his wife, Amanda, found Missy dying and alone on Mount Bierstadt near Denver, Colorado, last week while out hiking the peak, which is categorized as a "14er" meaning it tops 14,000 feet and is not considered safe for dogs.
Article continues below advertisement
"We were hiking to this ridge and we got off course and I was a little ahead of my wife," he told ABC News. "She called out to me and said, 'Hey I found a dog,' and figured I misheard her because there was no way a dog was where we were."
Tucked in a tiny nook in between the rocks, they spotted the puppy dog eyes and loving face of the black and brown shepherd peaking out from the spot where she had been struggling to survive.
They later found out that the poor pooch had been stuck there for eight days without food or water, she was "in awful shape," said Washburn.
The concerned couple tried to coax her down but she was too weak and injured to move. "We knew we weren't going to be able to get her out by herself," said Washburn. "Her paws were completely raw and her elbows were torn up."
Weighing in at 100 pounds, Missy was too heavy to carry so they patched up her paws as much as they could and left her on a leveled boulder so that she would be safe until they could bring help. "My wife broke down crying at the thought of leaving the dog to die," said Washburn.
Article continues below advertisement
As RadarOnline.com previously reported, Scott posted a plea for help on the climbing website 14er.com and by the next morning they had volunteers gathered to get the dog. Traveling through a snowstorm on a nine-hour rescue mission, the group eventually got Missy down by tucking her safely in a backpack.
Her original owner, Anthony Ortolani, has since come forward claiming he was hiking with Missy when her paws got too blistered to walk, so he left her on the cliff face and went down alone. He now wants her back, which has sparked an outpouring of protest from disgusted dog-lovers over his abandonment of man's best friend.
"I just don't think that his actions have shown that he is a responsible dog owner," Washburn said. "We understand that he had to leave her there. My wife and I did the same thing. But we ended up going back for her, and we went to some pretty extreme lengths to do so."
Clear Creek County Sheriff's Sgt. Rick Safe agrees and is now investigating to determine whether Ortolani is guilty of animal cruelty.
"The dog was basically abandoned up there," said the police officer. "He (Ortolani) made no initial attempt. After three days, he thought the dog was deceased so he made no attempts to reclaim the dog."