World's Fattest Dachshund Takes On The Biggest Loser Challenge, Doxie Edition!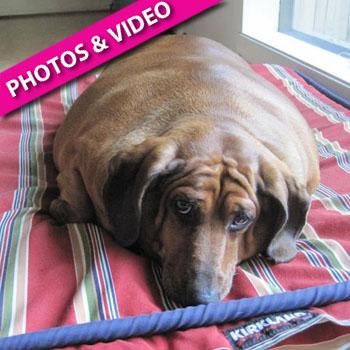 By Debbie Emery - RadarOnline.com Reporter
Who ate all the sausages? The world's fattest wiener dog has been told to lose the puppy fat after hitting the scale at a shocking 77 pounds.
Obie, who has such a huge barrel belly that his little legs barely touch the ground as he shuffles along, weighs twice as much as most Dachshunds after being almost fed to death by his previous elderly owners who continuously plied him with food as a display of their love.
Article continues below advertisement
Now the plump pooch has been adopted by Nora Vanatta, of Portland, Oregon, who has put five-year-old Obie on a strict diet to blast off the 40 extra pounds that he is dragging around, reported OregonLive.com.
The EMT and Certified Nursing Assistant is working with Purina to create a low-fat, high-protein diet for the food-loving hound, which also contains isoflavones, a natural bioactive compound designed to reduce oxidative stress in overweight dogs.
While he's still too plump to workout, Obie's new owner is hoping to soon be able to get him on a fitness regime including water aerobics and trotting on a treadmill.
"I feel tremendously blessed to be involved in his rehabilitation and I am amazed at the outpouring of love and support that I have received," said Vanatta. "My hope is that he can be an inspiration to any person or animal trying to lose weight.
Article continues below advertisement
"It is so important to introduce pups and kids to a healthy lifestyle and food choices as early as possible."
In the meantime, the larger-than-life wiener is reaching out to fans on his very own Facebook page that includes a request for donations to help with his rehab.
"Aging owners with failing health were simply loving him with food. They just couldn't say 'no' to those big brown eyes," explained Nora.
"I also have a 9-year-old black lab and 5-year-old dachshund. They are fit and active and promise to be good role models," pledged the dog lover.