Barking Mad! Cute Canines Get Dressed To Impress For Halloween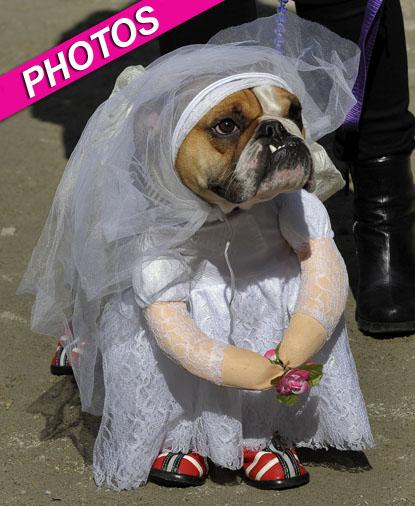 It was a tail wagging good time in New York on Saturday as the city's cutest canines displayed their finest, and wackiest, Halloween costumes — and RadarOnline.com has photos of the best in show.
The dogs were competing in the annual Tompkins Square Park Halloween Dog Parade and not a stone was left unturned, or un-peed upon, when it came to the imaginative and inventive costumes.
Tank the bulldog took on the role of Julia Roberts in Runaway Bride, complete with wedding veil and bouquet, while Jack the shitszu donned his finest Don Draper from Mad Men, suit complete with fake (we hope!) cigarette and a glass of scotch.
Article continues below advertisement
Other notable contenders were a weiner dog dressed as a stegosaurus, a pomeranian as a sightseeing bus, a spaniel as Natalie Portman in Black Swan and a bulldog dressed as a strong man, complete with hanging bar bell.
The winners of the day were a corgi dressed as an M23 New York bus, who won Best in Show, and a French bulldog dressed as Lady Gaga in her infamous meat dress, who won Best Dressed.
Around 500 patient pooches congregated for what is the largest Halloween dog parade in the U.S. All proceeds from the fun event go to the oldest dog run in New York City.