Sympathy Over Touching Viral Photo Saves Dying Dog's Life, 'Schoep Is Even Trotting!'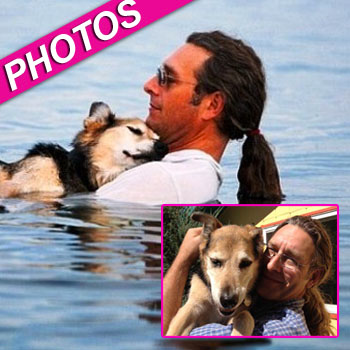 By Debbie Emery - RadarOnline.com Reporter
A picture can say a thousand words, but one heart-warming photo actually saved a dying dog's life just days before he was at risk of being put to sleep.
At 19 years old, Schoep was suffering from debilitating arthritis that his loving owner, John Unger, couldn't afford to treat and realizing that time was not on their side a friend captured the moving image of the duo as the Wisconsin native tried to ease his dog's pain by floating with him in Lake Superior.
Article continues below advertisement
The outpouring of support from the photo that went viral in August has been phenomenal and now thanks to expensive laser treatments paid for through donations, the shepherd mix is feeling like a healthy young pup again, RadarOnline.com has learned.
"Schoep is doing great! Since receiving treatment he is more active, alert, flexible, happy. He walks better, sleeps through the night now and wags his tail with more vigor. On our last walk he was even trotting!" said excited Unger in a statement to RadarOnline.com.
"I feel such overwhelming gratitude - Schoep wouldn't be here today, if it weren't for all these people who offered support. People from all around the world are opening their hearts to us. It is nothing but amazing."
As RadarOnline.com previously reported, the heartwarming image of the bond between man and dog was captured by close friend and photographer Hannah Stonehouse Hudson, owner of Stonehouse Photography, who snapped the picture in a last minute session to capture the magical moment in fear that Schoep would not be around for much longer.
Article continues below advertisement
Once the photo hit the web, well-wishers and animal lovers rushed to fund the cost of the laser treatments, which includes pain medication, joint and muscle supplement and weekly monitoring by the vet, needed to ease the old dog's pain, and before long a flood of gifts were being delivered, such as a tempur-pedic dog bed and elevated dog bowls, which have really helped improve Schoep's quality of life.
A mammoth $25,000 has already been raised and now Unger has found a way to pay back his gratitude by launching Schoep's Legacy Foundation dedicated to improving animal and human welfare, and all funds not needed for his care will be donated there.
Fans of the plucky pooch and his loving owner can buy prints and gifts such as mugs, tee-shirts and notecards at JohnandSchoep.com, and a portion of the proceeds will go to the foundation.
Article continues below advertisement
Unbeknownst to the brown and white hound, he now has a huge following around the world, with his Facebook page garnering more than 22,000 likes from Canada to Europe, and South America to Asia and Australia.
For the dog who brought his owner back from the brink of depression and persuaded him not to commit suicide after a bad break-up, the love and support are all very much deserved.
"We want to thank everyone for their generous support and for helping us start Schoep's Legacy Foundation, which will allow us to help many more animals and families. Schoep and I can't say thank you enough!"