Supermodel Maggie Rizer Claims United Airlines Killed Her Beloved Dog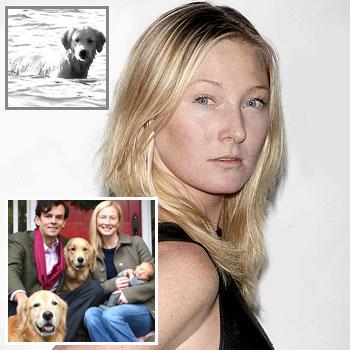 By Debbie Emery - RadarOnline.com Reporter
Supermodel Maggie Rizer is both angry and heartbroken over the death of her beautiful golden retriever, who perished mid-air during a United Airlines flight.
The fashion queen, her husband, Alex Mehran, and their 10-month-old son, Zander, flew from the east coast to San Francisco two weeks ago and were devastated to hear upon landing that one of their dogs, two-year-old Beatrice, was dead on arrival.
Article continues below advertisement
"We drove to the dark cargo terminal and on arrival in the hangar were told simply, 'One of them is dead' by the emotionless worker who seemed more interested in his text messages," Maggie wrote on her blog 'United Airlines Killed Our Golden Retriever.'
"It took thirty minutes for a supervisor to come to tell us, 'it was the two year old,'" she wrote. "Subsequently we requested that our dog be returned to us and were told that she had been delivered to a local vet for an autopsy. Whatever thread of trust remained between us and United broke and we then insisted that she be returned to us for our own autopsy by our trusted veterinarian.
"Over the next two hours the supervisor's lie unraveled as it became clear that Bea was right behind a closed door the whole time and he had been discussing how to handle the potential liability with his boss."
During the subsequent necropsy, the family's vet discovered that Bea had died of heatstroke, Rizer said. "Our little Beatrice died in pain, scared and alone."
United has refused to give any more information on the tragedy, saying that the internal investigation "doesn't show any irregularities, as evidenced by the fact that your companion dog and other animals on board did not suffer the same fate," according to a report.
Article continues below advertisement
The model, who has starred in campaigns for Gap, Louis Vuitton and Calvin Klein, went on to vent her fury against the airline, "I'm writing this with my anger aside, in the hopes that someone looking for advice will read this and not make the mistake of trusting United with their pets as we did.
"Aside from being completely emotionally distraught over the loss of our little Bea, I am so saddened by the complete lack of competence, honesty and compassion that United has shown. I am not writing this to start a lawsuit or to get anyone to stop flying United," she said.
"I am writing this to help make people aware that airlines are incapable of ensuring the safety of our pets. All it takes is for one employee to not follow the proper procedure and then like me, your dog is dead."
Maggie and her husband had gone to every effort to make sure their pets were safe, including getting them a full examination and a health certificate, special kennels, water bowls filled with ice, and paying an additional $1800 for their transport.