All The Hounds You Can Handle! Top Dogs Strike Their Best Pose For Kennel Club Competition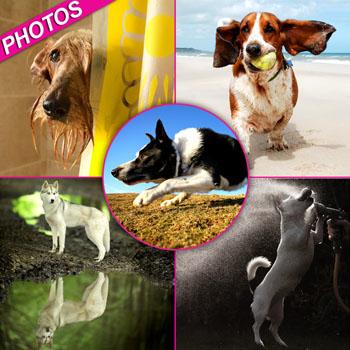 By Debbie Emery - RadarOnline.com Reporter
Nothing is more adorable than a puppy picture, and now the most spectacular close-ups in the canine kingdom have now been captured in the Kennel Club Dog Photographer of the Year competition.
From a soggy pooch caught in the shower and a happy Basset Hound with his favorite beach ball, to a black Labrador entranced by bubbles and a white pooch getting a refreshing hose down, the stunning collection has won the hearts of animal lovers around the world.
Article continues below advertisement
The overall winner was a Border Collie hard at work guarding his herd by skulking low to the ground across a field. The photo showing the die-hard focus of sheep dog, Max, was taken by Catherine Laurenson from Glasgow, Scotland.
"The photograph is of Max, our working Collie at home on our farm in Shetland, although he is more of a part-timer these days," explained the livestock photographer, reported HorseAndCountry.tv.
"I'm more used to photographing cattle and sheep. I travel the country visiting farms and can never resist snapping the dogs that are around. If there's a dog in the house it almost always gets its picture taken!"
Judge and professional photographer Nick Ridley praised Laurenson on her great creative eye following her victory. "The Border Collie is a highly intelligent and active breed and she has managed to capture both of these characteristics in a single shot," he said.
Article continues below advertisement
Other categories in the seventh year of the contest included: Portrait, Man's Best Friend, Dogs At Play, Dogs At Work, Puppy and I Love Dogs Because (for aspiring photographers under the age of 16).
The new Puppy criteria was launched as part of Puppy Awareness Week, which aims to discourage the purchase of dogs from unethical puppy farmers, who operate without health tests, injections or proper care, causing problems for both dogs and owners.