Learning The Hippo Paddle! Rare Baby Pygmy Takes The Plunge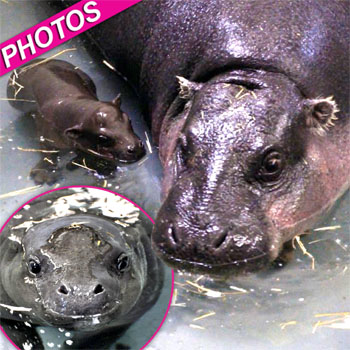 By Debbie Emery - RadarOnline.com Reporter
Who doesn't want a little Hump Day hippo cuteness ?
Even a natural water baby has to learn the right strokes, and none is adorable than this rare pygmy hippopotamus who recently took her first dip.
At just eight weeks old, Georgina is already paddling around the heated indoor pool at ZSL Whipsnade Zoo in Bedfordshire, England, with mom, Flora, keeping a close watch on her pint-sized splashes.
Article continues below advertisement
"Like the name hippopotamus – which means water horse – suggests, Georgina enjoys taking a dip, paddling around, and blowing bubbles under the water," said Africa section team leader, Mark Holden, reported LutonToday.co.uk.
"Flora's a star mum and is really helping the new calf to thrive."
Georgina is the second child in 18 months to be born to Flora and mate, Tapon, and her big brother, Sapo, was the first male pygmy hippo to be born in Europe.
Both new additions to the family are a great bonus for the European Endangered Species Programme and the conservation of the pygmy hippo species, which is threatened in the wild as numbers dwindle to an estimated 3,000 worldwide.
The adorable semi-aquatic mammals that are mini-mes of their larger – and more deadly – relatives are native to the forests and swamps of Western Africa, Liberia, Sierra Leone, Guinea and the Ivory Coast.
Article continues below advertisement