An Aquarium With Too Much Water? Coney Island Flooding Puts Animals In Grave Danger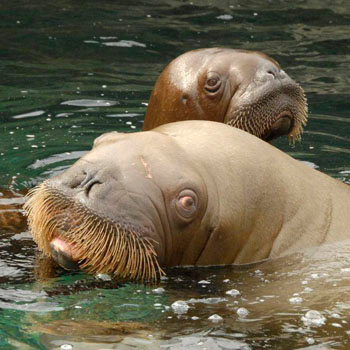 The 12,000 residents at the New York Aquarium in Coney Island are feeling the effects of Hurricane Sandy after severe flooding and power outages placed them in grave danger.
Unless power is restored soon, the sea creatures, including sharks, walruses and a giant octopus, will likely have to be moved to a different location.
"We are facing a critical period when we will have to decide if we are going to move some of our animals," Jim Breheny, Executive Vice President of WCS Zoos and Aquarium and director of the Bronx Zoo announced Friday.
Article continues below advertisement
"We are still working around the clock to accomplish what we need to do. We continue to pump water out of the areas which house crucial operating systems."
The aquarium said that the difficult decision on whether to move the creatures will have to be made by Saturday morning if power is not restored soon.
Meanwhile, some of the animals and mammals seem to actually be enjoying the extra water!
Mitik, an orphaned rescue walrus, "seemed interested and amused by all the activity around him" the aquarium reported.