Good Morning Robin! Roberts Masks Up & Braves Post Sandy NYC For Check Up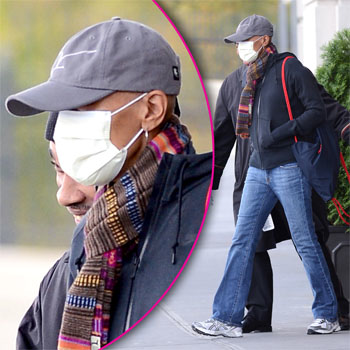 Robin Roberts just can't get a break!
After surviving breast cancer in 2007, audiences were shocked when Roberts announced on Good Morning America earlier this year that she had MDS (myelodyplastic syndrome) and was going on extended medical leave for a bone marrow transplant.
Next came the sad news that Roberts' mother passed away…. and then Hurricane Sandy hit New York only three weeks after she was released from the hospital following her bone marrow transplant, at a time when she was most susceptible to germs.
Article continues below advertisement
So, how is the college basketball star and popular co-anchor coping?
Well, Roberts is in high spirits, stepping out Friday to head for her daily check up, protecting herself against the germs with gloves and a face mask.
"I am considered 21 days old... Remember when you brought your baby home for the first time?" Roberts wrote on her GMA blog.
"Your precious bundle didn't leave the house much and you were careful that anyone who came in contact with your child was healthy.
"So I will still be resting away from GMA until I'm given the all clear, but sleeping in my own bed again feels like a big victory."
Spending most of her time recuperating, Roberts has daily hospital check ups at the Memorial Sloan-Kettering Cancer Center in Manhattan.
"Each day I get stronger and stronger. I am fond of saying, 'This Too Shall Pass.'" Roberts wrote.
RELATED STORIES:
Robin Roberts Tells Oprah She's 'Incredibly Blessed' In First Live Interview Since Transplant