Robin Roberts To Undergo Bone Marrow Transplant: 'I Feel The Love And I Thank You For It'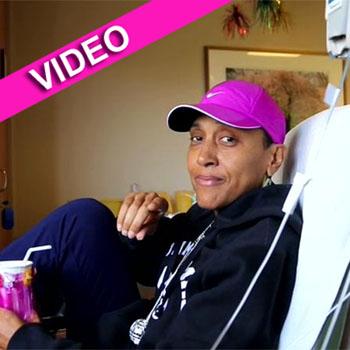 Good Morning America's Robin Roberts will undergo her bone-marrow transplant Thursday in New York.
Robin, who's battling a blood and bone marrow disorder called MDS (Myelodysplastic Syndrome), taped a video message that was broadcast on GMA Thursday in which she said, "This journey is as much about the mind as it is the body. Your thoughts … are so powerful.
"You've got to change the way you think in order to change the way you feel," said the 51-year-old TV veteran, who's been undergoing chemotherapy for eight of the past 11 days she's spent in the hospital. "And let me just say this lastly, I feel the love and I thank you for it. Thank you."
Article continues below advertisement
Robin's sister, Sally, is her bone marrow donor. She took her medical leave early last month, so she could have a final meeting with her late mother Lucimarian, who died August 30.
Dr. Gail Roboz, who is Robin's doctor, said that Robin has been "doing fantastic" in her treatment in the face of her personal tragedy.
"I think she misses her mother," Roboz said.
The beloved broadcaster -- a breast cancer survivor -- told her GMA colleagues, "I take you with me in my heart … I will be back, just so you know … see you later, see you soon, I'll get back as soon as I can," upon her departure last month.