Robin Roberts: We Became Number 1 On The Day I Learned I Was Sick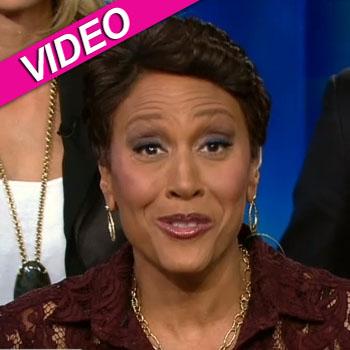 Good Morning America's Robin Roberts, appearing on Piers Morgan Thursday, said learning she had the blood and bone-marrow disorder MDS was "surreal," as it came June 11, the day her show clinched the top spot in the ratings.
"When I look at that date, I don't just think of that we became number one officially, that was also when I was officially told of my condition," she said. "So it was one of those surreal moments with the worlds colliding.
Article continues below advertisement
"And I waited a couple of months to tell … I knew once I made that announcement that you just showed that my life was going to change."
Morgan called the candid admission "a pretty extraordinary moment in television."
"Yes, our show," Roberts said. "Yes, we talk about politics and yes, we talk about weather. But we talk about personal moments like this, too."
Roberts said her message is to encourage others to be bone marrow donors; she credited an organization called Be the Match as a valuable asset in the battle. She added she's invigorated by the support she's received from others in her health crisis.
"I don't know if you see, we're all wearing these armbands that my -- wristbands that friends of mine made and I've given them to family and friends," she said. "And so when I look down and I see everybody with it, it just energizes me because I am getting very close to the time when I'm going to have to leave the program for a while and go through with the transplant."
Roberts appeared along with George Stephanopoulos, Sam Champion, Lara Spencer, and Josh Elliot in a group interview in which they also discussed their ratings success over the TODAY show.