Robin Roberts Feels The Love: 'I Slept Like A Baby For The First Time Since My Diagnosis'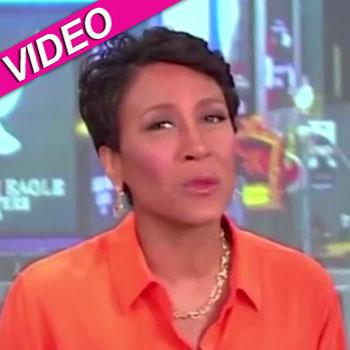 A day after tearfully announcing she's undergoing a bone marrow transplant to treat MDS, a rare blood and bone-marrow disorder, Good Morning America anchor Robin Roberts Tuesday said she "slept like a baby for the first time since my diagnosis" in the wake of countless well wishes and supportive messages, as she battles the rare disease.
"My family and I are overwhelmed and comforted by the response from everyone," the classy Roberts said. "It really has been very comforting."
Article continues below advertisement
Roberts, in treating the disease, will start chemotherapy immediately, and is slated to undergo a transplant this fall; her older sister will be the donor.
Roberts received uplifting messages from both First Lady Michelle Obama, who tweeted she and the president have the journalist in their prayers; and presumptive Republican nominee Mitt Romney's wife Ann, who Roberts said "has had her own health challenges," in the form of multiple sclerosis.