What Made Robin Roberts Cry On Good Morning America Today?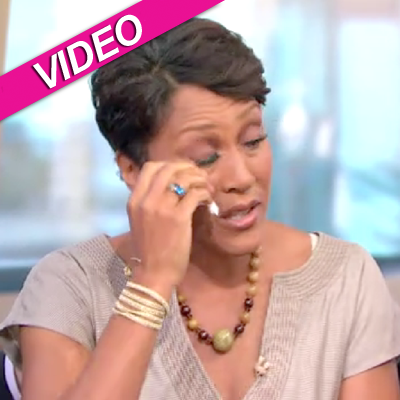 By Adam S. Levy - RadarOnline.com Staff Writer
Robin Roberts is always calm, cool and collected, making it look easy as she keeps the fast-paced world of Good Morning America moving each day.
But the veteran broadcaster became understandably choked up Thursday, after watching the music video premiere of country singer Martina McBride's new single I'm Gonna Love You Through, an inspirational ode to cancer survivors and those who supported them through the struggle.
Article continues below advertisement
The video includes cameos by cancer survivors Roberts, Today Show host Hota Kotb and singer Sheryl Crow, as well as a cameo from Katie Couric, who lost a husband and sister to the disease.
VIDEO: Khloe & Kourtney Dish On Kim's Engagement To GMA
After the video aired, Roberts could not hold back her emotions, crying as her GMA peers consoled her.
"I wasn't expecting to do this ... they're actually tears of joy," said Roberts, who courageously announced her battle with breast cancer on the air in 2007. "I really thought I was gonna be able to hold it together."
Watch the video on RadarOnline.com
McBride said she wanted to record the song "because of the strong message of hope that it sends.
"I believe I'm Gonna Love You Through It will offer hope and inspiration to so many people who are going through or have been through cancer and the people who love them through it," the singer said. "It takes a lot of strength and a lot of love to get through something like that.