GMA's Robin Roberts: We Don't 'Take Joy' In TODAY's Internal Problems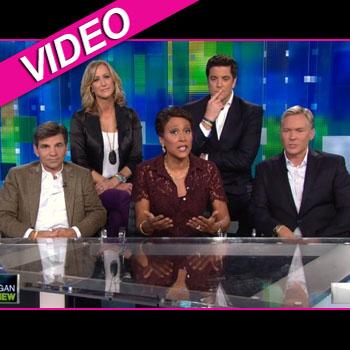 By Adam S. Levy - RadarOnline.com Staff Writer
The cast of Good Morning America, appearing on Piers Morgan Thursday, said friendships and chemistry have fueled their ratings ride past the TODAY show following a 16-year losing streak to their bickering NBC rivals.
Morgan welcomed Robin Roberts, George Stephanopoulos, Sam Champion, Lara Spencer, and Josh Elliot onto his show, as the ABC morning franchise surges into the fall season with incredible momentum. This summer, GMA has established a firm grip on the top spot, while the TODAY show seems to be imploding behind-the-scenes, punctuated by the controversial departure of Ann Curry.
Article continues below advertisement
Roberts said the cast doesn't "take joy in what's happening in other places," preferring to focus on making their show the best it can be.
"You concentrate on your team -- you don't concentrate on others -- we concentrate on ours," she said, adding that the morning of Curry's departure, they discussed it on their show, giving the veteran journalist the appreciation and "great respect" she deserved.
Spencer credited the cast's chemistry as a key in their claim to the top spot, calling them "five people who genuinely love each other" and "respect each other immensely.
"Respect is a huge part," Spencer said. "And we want to be together. It's not a lie. We do also hang out."
Champion said the ratings success is likely the by-product of GMA having the better program for a long time, and the public eventually catching on to that.
Watch the video on RadarOnline.com
"For a long time, I thought we were doing the number one morning show," the weatherman said. "I think it just took a little time for the audience to start sampling it and notice that what we were doing was like an amazing show that was fun to watch and had news and information, and is just jam-packed. And it never stops for two hours.