AWKWARD! George Stephanopoulos Asks Dylan McDermott About His Murdered Mom During Lighthearted Interview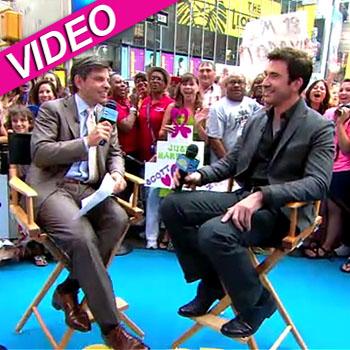 George Stephanopoulos may pride himself on being a hard news journalist, but on Thursday's Good Morning America, he created an awkward moment while interviewing actor Dylan McDermott about his new comedy, The Candidate, starring Will Ferrell and Zach Galifianakis.
As the two sat on directors' chairs, in a relaxed atmopshere outside in Time's Square surrounded by a crowd, Stephanopoulos abruptly switched subjects at approximately 3-minutes into what had been a lighthearted interview and asked McDermott about the murder of his mother.
Article continues below advertisement
Said Stephanopoulos: "You know there's something that's been in the news lately… I know you can't say much about it, but your mom was murdered forty five years ago.. you were just 5-years-old.. and just recently, with your help the case was finally solved and reached a conclusion. Is there anything at all you can say about it? I'd imagine that its at least brought you some peace."
McDermott -- looking stonefaced and clearly taken aback by the question -- replied: "Well George, you know I want to keep my personal life personal you know, and I'm here to talk about The Campaign you know. That happened a long time ago and I'd rather just keep it for myself."
Stephanopoulos quickly replied: "And we're going to respect that…" The ABC newsman then gracefully shifted the conversation back to McDermott's movie.
Watch the video on RadarOnline.com
As RadarOnline.com has previously reported, McDermott's mother Diane was murdered in 1967 and at the request of McDermott, authorities last year reopened the investigation and determined -- 45 years later -- that she was killed by her boyfriend at the time.
Article continues below advertisement
After reopening the case last year authorities were able find the evidence needed to finger her gangster boyfriend, John Sponza, as the shooter; her death was originally ruled an accident, and John told police at the time that Diane accidentally shot herself with the gun he had been cleaning.
"What troubled me was that there was very little follow up other than the statement Sponza had given to police," Police Superintendent Michael Gugliotti said last month.
"Sponza is telling the police that night that he very rarely, if ever, had arguments, yet everyone we spoke to, including Dylan, who was only 5 at the time, remembered very violent, vicious arguments.
He added, "Dylan vividly recalls the amount of times, not only flashing the gun, but pointing it at the kid, saying, 'Shut up and get out of here.' He's still probably traumatized by that."
Dylan's sister, Robin Herrera, told the Republican American newspaper, "I'm happy to know my mother wasn't mentally ill or depressed. Somebody took her from us. She didn't leave us."