Murder-Suicide At Beverly Hills Hotel Where Whitney Houston Died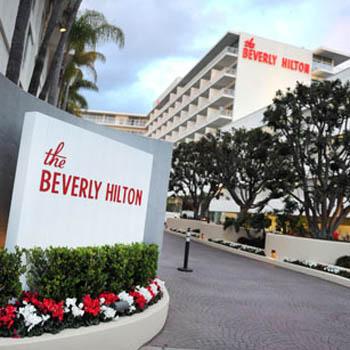 UPDATE: The Beverly Hills Police Department has revealed that the bodies they'd discovered at the Beverly Hilton hotel were a 70-year-old man man and the woman, 56. "Both are believed to be long time residents of the hotel," Lt. Mark Rosen said in a statement to RadarOnline.com. As of midday Saturday, investigators were still on the scene and hadn't yet determined a motive for the apparent murder-suicide. Cops did rule out any connection with the Daytime Emmy Awards, however.
Article continues below advertisement
A man and woman were found shot to death at the Beverly Hilton Friday night, and it appears to be a murder-suicide, according to the Beverly Hills Police Department.
The tragedy was discovered at the same upscale hotel where Whitney Houston died on February 11 just before she was to attend music mogul Clive Davis' annual pre-Grammy Awards bash.
The Beverly Hilton is also the scene of today's Daytime Emmy Awards. The ceremony is going ahead as scheduled, and will be broadcast tonight on HLN.