Murderer's Last Meal: 29,000 Calories Before Execution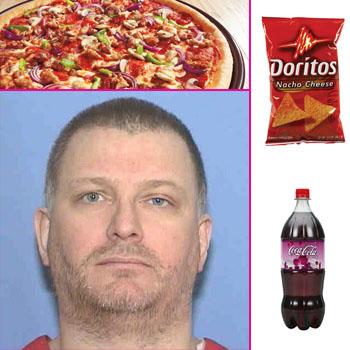 By Alexis Tereszcuk - RadarOnline.com Entertainment Editor
A convicted murderer on death row was executed on Wednesday but for his last meal he ordered a whopping 29,000 calorie dinner!
Gary "The Butcher" Carl Simmons, 49, was given his last meal at the Mississippi State Penitentiary in Parchman before receiving a lethal injection for the 1996 murder of a man court records said was shot by Simmons' brother-in-law and then he used meat carving knives to dismember the body parts and scatter them in an alligator-infested bayou.
Article continues below advertisement
Simmons ordered a jail house dinner that included a slew of fast food: one Pizza Hut medium Super Supreme Deep Dish pizza, double portion, with mushrooms, onions, jalapeno peppers, and pepperoni; pizza, regular portion, with three cheeses, olives, bell pepper, tomato, garlic and Italian sausage; 10 8-oz. packs of Parmesan cheese; 10 8-oz. packs of ranch dressing; one family size bag of Doritos nacho cheese flavor; 8 oz. jalapeno nacho cheese; 4 oz. sliced jalapenos; two large strawberry shakes; two 20-oz. cherry Cokes; one super-size order of McDonald's fries with extra ketchup and mayonnaise; and two pints of strawberry ice cream, according to GulfLive.
The Department of Corrections reported that 90 minutes before the execution Simmons had eaten half the meal and was still eating. He sampled everything except the chips.
The death row inmate's last meal came in at just under an astonishing 30,000 calories!
Simmons' last words were: "I've been blessed to be loved by some good people, by some amazing people. I thank them for their support. Now, let's get it on so these people can go home. That's it."