Dylan McDermott's Mom Murdered, Solved 45 Years Later: 'It's Been A Long, Hard Journey'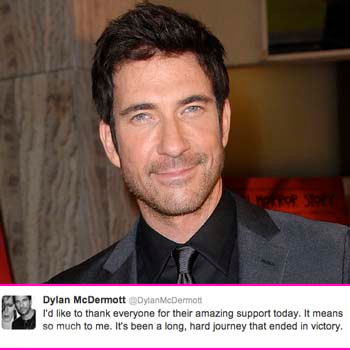 By Amber Goodhand - RadarOnline.com News Editor
Dylan McDermott's mother was murdered in 1967 and after police reopened the investigation it was determined 45 years later that she was killed by her boyfriend at the time, RadarOnline.com has learned.
"I'd like to thank everyone for their amazing support today. It means so much to me," Dylan, 50, tweeted on Monday.
"It's been a long, hard journey that ended in victory."
Article continues below advertisement
The American Horror Story actor was only five-years-old when his mother, Diane McDermott, was shot in Waterbury, Connecticut.
After reopening the case last year authorities were able find the evidence needed to finger her gangster boyfriend, John Sponza, as the shooter — her death was originally ruled an accident and John told police at the time that Diane accidentally shot herself with the gun he had been cleaning.
MORE ON:
Celebrity Justice
"What troubled me was that there was very little follow up other than the statement Sponza had given to police," Police Superintendent Michael Gugliotti said.
"Sponza is telling the police that night that he very rarely, if ever, had arguments, yet everyone we spoke to, including Dylan, who was only 5 at the time, remembered very violent, vicious arguments.
He added, "Dylan vividly recalls the amount of times, not only flashing the gun, but pointing it at the kid, saying, 'Shut up and get out of here.' He's still probably traumatized by that."