Robin Roberts Reveals Tearful & Touching Farewell To Mom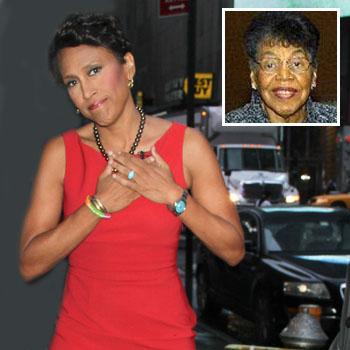 Robin Roberts may have left her Good Morning America post a day early, but it meant that she got to say goodbye to her mom, RadarOnline.com is reporting.
The 51-year-old TV anchor raced home to Mississippi to say her final goodbyes to mother Lucimarian, who passed away on Friday morning at the age of 88.
And writing on Facebook, Robin touchingly revealed that she held her mom's hand as she drifted away.
Article continues below advertisement
Robin and her sister Sally-Ann made the dash from New York, despite the threat of Hurricane Issac, to join the bedside vigil with their brothers.
"My family tells me momma gave me one final gift as her last act. She waited for me to get home on Thursday to say goodbye," Robin wrote in a message to her fans.
"She was there when I took my first breath and what a privilege to hold her sweet hand when she took her last breath."
Robin was due to leave GMA on Friday to undergo bone marrow treatment for the rare the blood disease, MDS.
She revealed: "'Momma knew she wasn't physically able to be with me for my bone marrow transplant.
My siblings say mom wanted to spare me the agony it would have been if she had passed and I couldn't be there. That thought was weighing heavily on me."
Because of her mother's death, Robin decided to delay her bone marrow treatment so the spirit of Lucimarian will keep her safe from harm.
MORE ON:
hollywood happenings
Article continues below advertisement
"When I return to NYC and walk through those hospital doors next week momma will be right there with me," she wrote.
Robin shocked GMA viewers when she announced she would be taking medical leave early because "something's happened at home."
Lucimarian held the honor of becoming the first African American to head Mississippi's Board of Education. A music lover and avid church goer, she collaborated with Robin on the book My Story, My Song released earlier this year.
GMA executive producer Tom Cibrowski wrote in an email to GMA staff: "She loved the written word and the poetry and joy of song. She even recorded a CD of hymns for her family as a gift last year."
He added: "It has always been clear where Robin got her strength, faith and spirit. You didn't need to look far."
So far, a cause of death hasn't been released and the Roberts family plan to hold a private memorial service.
Robin has revealed that she will return to her GMA seat as soon as she's finished her treatment. It's not the first time the TV host has fallen sick – in 2007 she successfully fought off breast cancer.
RELATED STORIES:
Robin Roberts' Mother Dies At 88
Robin Roberts Leaving Good Morning America Earlier Than Expected
Robin Roberts: We Became Number 1 On The Day I Learned I Was Sick
GMA's Robin Roberts: We Don't 'Take Joy' In TODAY's Internal Problems