Exclusive
Robin Roberts Responding Well To Treatment, But Not Expected Back To Work Until Next Year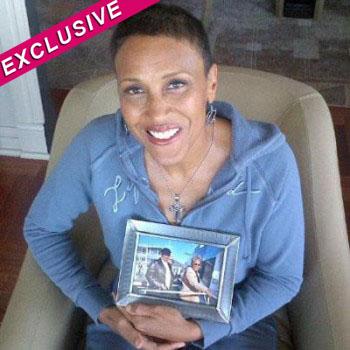 Article continues below advertisement
"Robin is exhausted from the chemo she had to undergo before the transplant but she remains in very good spirits. This is much tougher physically for her than the treatment she had for breast cancer, but Robin is a fighter and truly believes that this happened to her for a reason. Since the MDS diagnosis, Robin wanted to bring awareness to the need for bone marrow donors. Robin was lucky that her sister was a match for her but she is determined to do everything possible for others suffering with cancer."
As previously reported, Chicago-Sun Times television critic, Tom Shales, accused Good Morning America of using Roberts' serious illness as a"promotional opportunity."
The television critic insisted the criticism was "Something That Must Be Said."
He wrote: "We all wish Robin Roberts well. And we hope she is not being charged with sick days, considering the fact that her illness has practically become another character in the show's cast."
Article continues below advertisement
What Was Behind Ann Curry's TODAY Show Breakdown?
But GMA is not taking the comments laying down. ABC News senior VP Jeffrey Schneider tells TVNewser: "To be clear, we are keeping faith with our viewers, who are deeply interested in Robin's journey. We are also mindful that Robin derives strength from the overwhelming outpouring of love. That Tom wouldn't understand is no surprise here."
"The notion that GMA is exploiting her medical diagnosis for ratings is just revolting and offensive. Robin is a very public person and wanted to share her battle with breast cancer when she was diagnosed several years ago," a friend tells RadarOnline.com. "Again, she only wanted to raise awareness for breast cancer and she recognizes that she has a platform of being a journalist which she can use to educate people about these very serious cancers, that don't just effect her, but hundreds of thousands of Americans."