'Good Morning America' Accused Of Milking Robin Roberts' Sickness For TV Ratings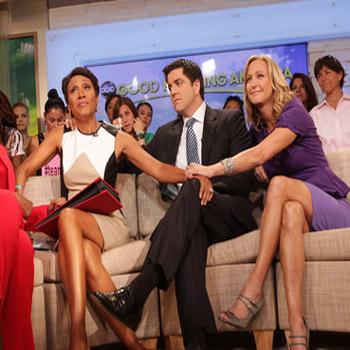 One of the most influential TV critics in the country has launched a stinging attack on Good Morning America, accusing the breakfast show of using Robin Roberts' serious illness as a "promotional opportunity."
Writing for the Chicago Sun-Times, Tom Shales insisted the criticism was "Something That Must Be Said." He wrote: "We all wish Robin Roberts well. And we hope she is not being charged with sick days, considering the fact that her illness has practically become another character in the show's cast."
Article continues below advertisement
As RadarOnline.com previously reported, the popular GMA anchor is fighting the rare blood and bone marrow disorder MDS (Myelodysplastic Syndrome).
This week viewers watched as Roberts' doctor performed a bone marrow transplant.
GMA has been heavily covering the anchor's battle with the disease but Shales says it's too much.
It's not the only criticism he has fired at the show, which is currently beating its rival TODAY in the TV ratings war.
What Was Behind Ann Curry's TODAY Show Breakdown?
He says the program is "as newsy these days as Here Comes Honey Boo Boo."
But GMA is not taking the comments lying down. ABC News senior VP Jeffrey Schneider tells TVNewser: "To be clear, we are keeping faith with our viewers, who are deeply interested in Robin's journey.
"We are also mindful that Robin derives strength from the overwhelming outpouring of love. That Tom wouldn't understand is no surprise here."