Matt Lauer Berates Staff As TODAY Ratings Sink, Turns Into 'Anchor Animal' Behind The Scenes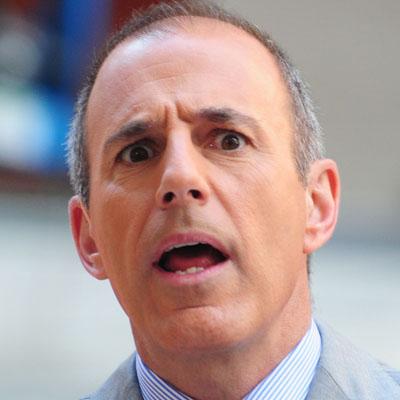 Perhaps Ann Curry got out at just the right time.
Her former co-host, TODAY lead Matt Lauer, has "turned into an anchor animal" on the set of NBC's morning show, micromanaging the program, belittling staffers and forbidding use of the phrase "Good Morning America," insiders say.
Sources told the NY Post Lauer is "making all editorial decisions, he's running the show and he's not listening to anyone...it's a huge problem."
Article continues below advertisement
The network insider said that Lauer, incensed with his show's losing streak to their ABC rivals in the ratings after 16 years on top, "has gone so crazy...that staff on Today are not even allowed to mention GMA to him."
Lauer's dominating attitude has made the workplace toxic for the staff, as he's always "telling them to work harder" -- which a separate source says is ironic, coming "from a guy working four days a week, making millions."
MORE ON:
hollywood happenings
Lauer laughed off the story when asked for comment by the Post, telling the paper, "Please print this … it's the most interesting and dangerous I've ever sounded!"
As we previously reported, new ratings reveal TODAY has tumbled in the ratings since jettisoning Curry, with 4.94 million viewers in her last ten weeks, and 4.6 million in the first ten with Savannah Guthrie in her former role. In the key demographic of 25- to 54-year-olds, NBC was getting 2.1 million in the ten weeks before Curry's ouster and 1.9 million in the ten weeks after.