Chronic Acne Sufferer, Bullied For Her Bad Skin, Goes From Spotty Teen To Catwalk Queen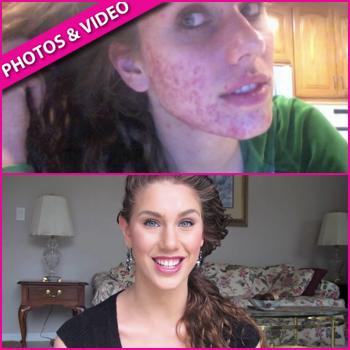 Cassandra Bankson's transition from duckling to swan is complete.
Less than a year after capturing the spotlight with a YouTube video in which she showed her secret to concealing serious acne issues, the 5-foot-11 beauty walked the runway at New York Fashion Week for the clothing line Boy Meets Girl Wednesday.
PHOTO: Acne Plagued Youtube Star Turns Catwalk Model
"It feels like a dream to be here during Fashion Week," Bankson told the NY Post. "I am a different person from who I used to be because I've got so much more confidence now."
Article continues below advertisement
It's a remarkable turnaround for the 19-year-old California native, who was relentlessly bullied by schoolmates over the severe scars she sustained as a result of cystic acne.
The California native gained fame late last year after posting a before-and-after skin care video on YouTube.
In the video, Bankson utilizes a combo of foundation, concealer, powders and spray to disguise her skin condition.
In a subsequent appearance on GMA, Bankson said she was surprised by the feedback received from fans of both genders who struggle with skin care issues.
"I never knew that for men, for women, even for adults, it's such an epidemic," she said. "Yes, it's cosmetic, but it goes deeper than that. I think that's something that's a little bit of a misconception.
"I know exactly where you are, I've been in your shoes and there is hope," the resurgent beauty said. "Someone else has been there and there is a way for you to feel confident ...you just need to kind of search around for what it is that makes you lighten up."
RELATED STORIES:
The Single Life Suits Her! Glam Katie Holmes Heads To Work
From Girl Next Door To Sexy Rocker! Kylie Jenner Gets Edgy For Avril Lavigne's Fashion Show
Work It Girls! Kendall And Kylie Jenner's Glam Fashion Week Photos
Posh Smiles! Victoria Beckham's Collection Wows NY Fashion Week Elite