Posh Smiles! Victoria Beckham's Collection Wows NY Fashion Week Elite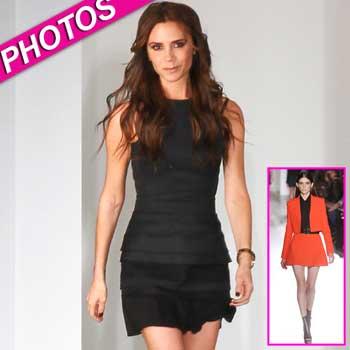 Mark September 9, 2012 on your calendars. That's the day Victoria Beckham did what she NEVER does in public -- smile!
With Vogue editor Anna Wintour and husband David Beckham both in the front row, Victoria's Spring 2013 collection was met with applause and congratulatory whistles during its presentation during New York Fashion Week.
Already a supporter of Beckham's designs, Vogue Japan editor Anna Dello Russo was there too, and wearing one of Victoria's designs.
Article continues below advertisement
At the conclusion of the show, after all her models had strutted the catwalk, Beckham took the traditional designer's walk out on stage. She kept raising her hands to cover her mouth.
As she left the stage, Victoria even turned to get one last look at the crowd as if to make sure it was all really happening.
The Beckhams, along with daughter Harper, attended a celebratory luncheon after the show.
"Fashion stole my smile!"
MORE ON:
New York Fashion Week
Beckham has been showing her collections during NY Fashion Week since 2008.
On Wednesday, newly-single Katie Holmes makes her Fashion Week debut when her Holmes & Yang line goes public before an invitation-only audience.
RELATED STORIES:
Katherine Jenkins Hit With Death Threats Over David Beckham Affair Rumors
Katherine Jenkins Slams David Beckham Affair Rumors As 'Very Hurtful' And 'Untrue'
Spice Girls Were Going To Perform Without Victoria Beckham At Olympic Closing Ceremony