Victoria Beckham Explains Sour Face, 'Fashion Stole My Smile'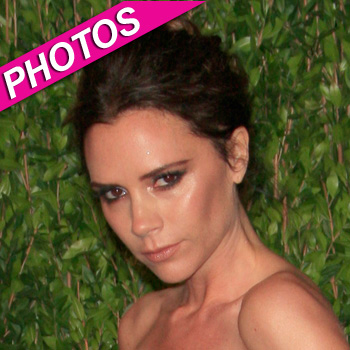 Just call her Sour Posh!
Most stars smile for the camera, but not Victoria Beckham! The Spice Girl turned fashion designer, who is famous for her stoic and sullen photographic faces, reveals that her passion for fashion robbed her of her grin – and RadarOnline.com has the details.
"I actually used to smile a lot in pictures," Beckham dishes in the September 2012 issue of Glamour. "I think I only stopped smiling when I got into fashion.
Article continues below advertisement
"Fashion stole my smile!"
Beckham, who plays guest editor for The Fashion Issue of the magazine, also admits that her hard shell and tough persona is not a full representation of the real her.
"I've created this person. And I'm not saying that's not me, but I wouldn't say that's the whole me…. It's an armor that goes up."
And she may already have a brood of four children with her soccer stud husband David Beckham, but the career woman and devoted mother may not be done making babies.
The Spice Girls Reunite For The First Time In 4 Years!