Katherine Jenkins Hit With Death Threats Over David Beckham Affair Rumors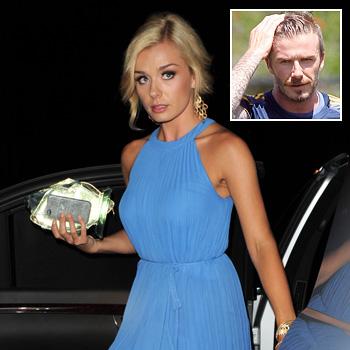 Katherine Jenkins has received death threats after taking to Twitter to deny rumors that she had an affair with David Beckham.
As RadarOnline.com previously reported, an Australian magazine claimed the soccer star and the Dancing with the Stars beauty hooked up together, and she took to her Twitter to shoot down the "untrue," story. "Dear Twitter friends, I've read some horrible rumours sic on here & want u 2 know I absolutely deny I've had an affair with David Beckham," the British opera singer wrote on Friday.
Article continues below advertisement
But Jenkins' tweet has raised the ire of certain Beckham fans, with one threatening to knife the opera singer if Becks splits from his wife Victoria in light of the rumors.
"Honestly, and you all said my dislike of Katherine Jenkins was irrational (it is, and that b**** is getting cut if David and Posh split," one fan wrote.
"Emotional support will be needed if any truth comes from this. I love Posh and Becks."
"She's dead when I get her," said another, and: "I will kill that s***."
"She was disgusted by the abuse because it was so sinister and scary," a friend of Jenkins told The Sun newspaper.
"When she saw the messages she straight away wanted to protect herself by getting police involved."
A spokesman for Katherine, 32, confirmed: "Due to the serious nature of the threats, the tweets have been reported to the police."