Exclusive
NBC Execs Met With Ann Curry After Controversial Interview About Her Appearance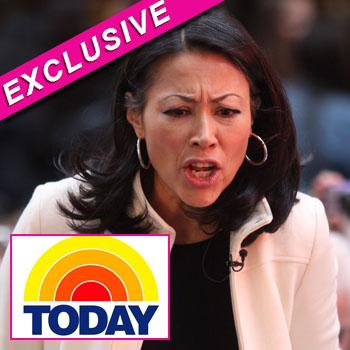 By Jen Heger - Radar Assistant Managing Editor
NBC executives had a meeting with Ann Curry after an interview she did with Ladies Home Journal where she revealed that her bosses at TODAY weren't happy with her physical appearance, RadarOnline.com is exclusively reporting.
Just before Curry was replaced by Savannah Guthrie as TODAY co-anchor, she vented to the magazine about how she irked decision-makers at NBC because she wasn't their style — literally.
Article continues below advertisement
"The meeting was conducted by several high ranking NBC executives, and Ann Curry. They didn't rake her over the coals for her comments, but the message was definitely clear…no more negative comments about the network," a source close to the situation told RadarOnline.com.
"They also wanted to address her concerns that she vented about in the interview. Ann had no intention of causing a controversy, and she reminded them that when she did the interview, she was still a co-host of the TODAY show. Ann was trying to convey in the interview that women's physical appearances are heavily emphasized in the professional working world, as compared to men. Ann has always been a true class act, and she had nothing to be ashamed of."
In the interview Curry said Peacock Network officials didn't like that she had grey hair, thought her wardrobe was frumpy and wanted her to wear "ridiculously high heels" during her time as an anchor with TODAY.
Curry said when she wore clogs and flats into the studio, it didn't "go over very well with my bosses," and in one instance, she was compared to breakfast cereal mascot Toucan Sam when wearing a colorful dress on the air.
Article continues below advertisement
The respected journalist went on to say, "I've got gray hair because I won't dye it: I want to honor my family by looking exactly as they did as they got older… I think showing some grey is authentic ...true beauty is a face you have lived in. Of course I want to look my best: I eat right, exercise and use skin cream. I try to wear nice clothes. But I don't want to change the fundamental parts of me, because it means changing who I am."